Hybrid Video Recorder (HVR) is used to record video footage in a digital format to a hard disk drive (HDD). It accommodates both IP and analog cameras and captures video/images through an ethernet network via Cat5 / Cat6 cables from IP cameras as well as coaxial cables from analog cameras. It is mostly used for physical security applications. This option is a good choice when planning for future expansion into an IP video surveillance system as your existing analog cameras can be reused and incorporated into the system without any drop in coverage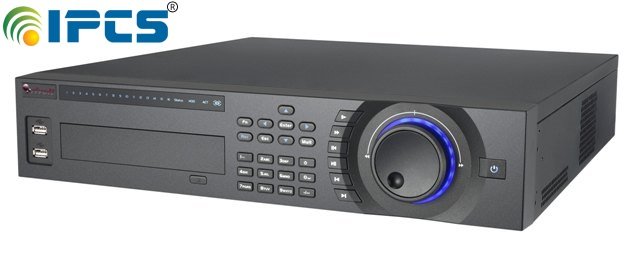 The Hybrid recorder is quickly growing in popularity because of it is versatility. Hybrid video recorders (HVR) are compatible with both standard analog cameras and IP/network cameras. The HVRs can be a little misleading at first. An 4, 8 or 16 channel Hybrid aren't really 4, 8 or 16 channel video recorders. You'll want to double check, but most sellers of these recorders advertise them in the same way. The channel quantity that's listed is almost always the channel quantity for each type of camera the recorder is compatible with. What we mean is that an 8 channel HVR is actually 16 (8 analog and 8 IP). If I'm still doing a bad job of explaining this, you're getting twice as many channels as is being advertised in most cases.
Now it's not just the fact that you get a lot for what you pay for that makes them so attractive to consumers. If you're only in the market for an 8 channel DVR, it still makes sense to purchase an 8 channel HVR even though there is really 16 channels. You can connect perfectly acceptable analog cameras to the HVR with Cat5e /Cat6 and baluns initially and years down the road when you're looking to upgrade your system, it'll only be a matter of replacing the cameras instead of a DVR and all of your cable. Depending on the size of your system, this can save you thousands of dollars on the upgrade.
1: What is an HVR, and how is it different from a DVR and an NVR?
A: A DVR (digital video recorder) records images from analogue cameras, while an NVR (network video recorder) records images from IP cameras. An HVR (hybrid video recorder) can record images from both analogue and IP cameras. All record on to hard disks.There is no such thing as a hybrid DVR. When people say that, what they really mean is an HVR.
2: When should HVRs be used?
A: The usual application is upgrading existing systems that use analogue cameras. Using an HVR means that money can be saved by retaining existing cameras but, as extra cameras are needed or the old ones need replacing, IP cameras can be fitted. This means that the user ends up with a full IP system, but spreads the cost of conversion.
3: Is there anything to watch out for when choosing an HVR for a client that eventually wants to convert to a full IP system?
A: Yes! Some low-cost HVRs are really DVRs with facilities added for handling a small fixed number of IP cameras. These are fine if a few IP cameras are being used to expand an existing system and no more IP cameras will ever be added.
If, however, the plan is to replace analogue cameras as they wear out by IP cameras, a hybrid video recorder of this type is not suitable. Instead, choose a more versatile model where reducing the number of analogue inputs means that more IP cameras can be handled.
Also, be sure to choose an HVR with multi-protocol support, so that you'll have the widest choice of compatible IP cameras when you come to buy them.
4: Is it really worth buying any sort of digital recorder? I've read that ordinary PC hardware with CCTV software is a better solution.
A: That depends on what's meant by better! In practice, good quality PC hardware to form the basis of a reliable CCTV installation will cost at least as much as a digital recorder and, with the recorder, you can be confident that the hardware is robust, dependable, and properly specified for the job it is doing
5. Recording
I'm sorry if this is obvious by now, but these devices are all intended to record video from your security cameras. The way this works is with an internal hard disc drive (HDD). The amount of time that you need or want to have backed up will dictate the size and/or quantity of the hard drive(s). The way the recording works on these units is usually people's biggest fear at first. When the hard drive has reached it is capacity and is full of recorded video, it will begin to over-write. This just means that it'll start back at the beginning and record over whatever is there. This also means that you won't have to format video or remove video manually if you don't actually need it. If your hard drive is giving you two weeks of recording and nothing happens in that time where you need to back up video, you can just let things run their course.
6. Video Back Up
Your video recorder is recording the security camera footage to an internal hard drive. If you have to turn over a portion of that footage for any reason, you'll obviously not want to have to remove the hard drive in order to do so. You'll usually have several options. With most video recorders having USB ports now, you should have no problem connecting a flash/thumb drive, external hard drive, or external DVD burner to them. From here, you'll be able to back up video from the video recorder to one of these external devices. Another option, and normally more convenient for people, is to back up the video from a computer on the same network. By logging into your video recorder from a computer within the network, you'll be able to download video on that computer from your video recorder through the network. More often than not, DVRs, NVRs, and HVRs are positioned in limited or no access locations. Being able to download that recorded footage from a separate location is a huge advantage
7. Local Access
What we're talking about here is what your options are for accessing your video recorder while you are with the same network; your network being everything under the same internet router. As long as you are connected to the router, whether it be hardwired or wireless, you should be able to use any desktop computer, laptop computer, iPad, Android tablet, iPhone, or Android smart phone. Desktop and laptop computer have two options. They can either login through the internet browser using the recorders IP address, or they can access the recorder by using software after adding the recorder to the device list. On tablets or smart phones, you'll just need to use the appropriate application. After installer the application, you'll add your recorder to the device list just as you would with the computer based software.

8. Remote Access
Your options for remote access work the same way they do with local access. The biggest difference here is the extra setup needed for this feature to work. Port forwarding is what we're talking about here.  So we're not going to go into that any further. Once the port forwarding process is completed, you'll access your recorder via your network IP address now instead of the recorder IP address. When you access your network, you'll be accessing it through the port that you opened during port forwarding and you'll automatically be redirected to you video recorder.
9. Frame Rate
You're going to want to pay special attention to this. Companies have a lot of different ways of reference the frame rate and, sometimes, they'll leave you needing to do a little math. You're specifically trying to find out what the maximum frame rate is for each channel and at what resolution. If you want real-time recording (30 frames per second), you want to make sure that the video recorder is capable of that on all channels simultaneously and that it's at a resolution appropriate for your cameras. There's not a lot of point in having high resolution cameras if the video recorder isn't capable of recording at the resolution at the frame rate that you'd like.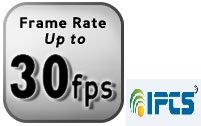 10. Resolution
Do your homework and plan accordingly. As we just said, make sure that your video recorder is capable of recording at the appropriate resolution for the cameras you purchase. Not only that, but make sure you can record at the frame rate you also want at that same resolution. There's really nothing else to say here other than shop carefully.
11. Storage Capacity
The amount of storage you need is ultimately dictated by how many days you need to have backed up. The other things that contribute to this are the recording resolution, the frame rate, the bitrate that you'll be recording at, and your personal recording schedule and how often the cameras are set to be recording for. No one expects you to know exactly what size hard drive you'll need. If you can't find a calculator somewhere out on the internet, just ask the company you're looking to purchase from. The most accurate answer you're going to receive here is usually based on worst case scenario. Since many people aren't familiar with bitrates , or frame rates, or what their recording schedule is going to look like, it only makes sense to assume the worst and go with the largest amount of storage that you could potentially see yourself needing.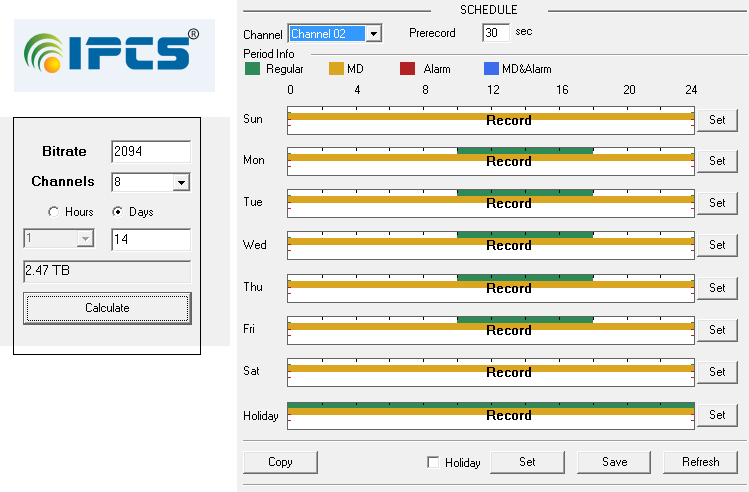 12. Input & Output Options  
Hybrid Video Recorder (HVR):
We just covered digital video recorders and network video recorders. Slam those two lists together and you'll have everything you'll need for HVRs. Since hybrids are compatible with both analog and IP cameras, you'll need to act as if it's both a DVR and NVR.