Most industrial plants are automated without any interactions between the machines and the operator. This makes difficult for the operator to know about the machine and undertake the machine faults occurs in industry. Although, to communicate between operator and machine interface called HUMAN MACHINE INTERFACE (HMI).
HMI has hardware and software Process to monitor and control the operation of machinery and devices in industrial environments, even can monitor and control in critical infrastructure. It has electronic components to give signals and control automatic systems. Some HMIs can translate the field data into Human-readable visual representation of the systems. Nowadays, we usually interact with machines through Human Machine Interfaces as well as Man-Machine Interface (MMI) and Human-Computer Interface (HCI).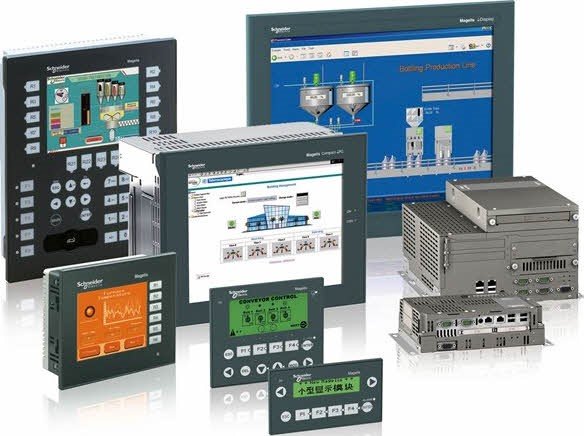 An HMI is Touch Screen Sensor, one part of a SCADA (Supervisory Control and Data Acquisition) system and the information is displayed in a graphic format (Graphical User Interface or GUI). Many times an HMI will be in the form of a screen as a computer screen, and sometimes they are not touch screen.
Block Diagram of HMI:-
Motors are used for motion controls in a variety of Electro-Mechanical industries like Robotics, CNC, manufacturing etc. The control of motors is in modes like Position, velocity, and Torque modes using drives. The positioning mode controlled through Programmable Logic Controller (PLC).

The Ladder logic Programming is to oscillate the motor shaft runs in forward/reverse direction for required speed and position. The operator can program an HMI to perform any functions that can be controlled or information can be monitored by a PLC. HMIs and PLCs work together to monitor and control the machine.
Types of HMIs:-
There are three types of HMIs as follows
Pushbutton replacer
Data Handler
Overseer
Pushbutton replacer: – In control panel consisting multiple numbers of push buttons, each of them has a specific function. In many industrial factories use push button replacer to improve their Efficiency and productivity. It can allow workers to perform various commands on one or more machines in a single-use, convenient interface. These commands centralized in a single location to give huge improvements on machines.
Data handler: – HMI is primarily used for gathering data, at some point, it may send a hard drive or printed out, depending upon user command. Data handler is particularly useful in applications involving a large amount of data from a machine, likely using Data handler HMI.
Overseer: – Overseer typically runs on the Windows operating system. It takes a more visual approach to interaction between a human operator and machine, it allows for a graphical interface on electronic display or touch screen display.
How to select a correct HMI?
The push buttons replacer takes place of LEDs, On/Off buttons, Switches or any other mechanical devices that perform a control function.
The data handler requires constant feedback and monitoring purpose; equipped with large capacity memories.
The overseer works with SCADA, it is a centralized system that can monitor and control entire sites of large systems over large areas; HMI usually linked with SCADA system database and software programs to access data and management information.
The screen size is developed to fit the size of an HMI for running SCADA software.
Application works are in a standard touch type, to operate.
Some software requires a specific resolution to successfully operate; that determines based on HMI requirements.
If we will implement an all in one solution that includes Screen, CPU, memory, storage and operating system.
Using all in one unit – HMI will act as the main pass all information back to the servers.
HMI Working: –
Firstly, components that are necessary to make a manufacturing control system operation; the product lines consist of all machinery performs that work required in the production of products. Secondly, considering various input and output sensors that can monitor temperature, speed, pressure, weight and feed rate. Thirdly, the Programmable logic controller (PLC) that receives the data from input and output sensors and convert into a logical combination
Environmental aspects of HMI: –
The operating environment always is considered, when selecting an HMI. In a warehouse has excessive noise or vibration in that situation might be used heavy duty HMI. If, in the food processing industry or somewhere, there might need to be washed down select a water-protected HMI. Furthermost, consider temperature as a factor in a selection process; if used in a steel plant or next to the furnace, in that case, need something that can withstand extreme temperatures.
Interfacing flexibility: –
The most convenient features of an HMI ability to personalize the interface.
It can support complex applications, with multiple screens and several processors.
If the operator looking to program simple, he can have instructions for controller directly write on to the HMI.
It comes with different features as play sounds, plays videos, or may have remote control access.
The actual interface should be optimized for a specific application that undertakes consideration of all capabilities of typical the user, as well as environmental aspects like noise, lightning, dust, vision and technological curves.
Merits of HMI: –
The most advantage of an HMI is the user-friendliness of the Graphical interface.
The graphical interface contains color coding for easy identification likely Red color for trouble.
Pictures and icons for fast recognition.
It can reduce the cost of product manufacturing and increase profit margin.
This device is extremely innovative and capable of larger capacity storage and interaction is more.
In this device can convert from hardware to software; there is no need

ofmouseand keyboard and allows Computer-Human interaction.
Applications of HMI: –
In automotive dashboards, HMI

mayconsistsofa touch screen is enabled through driver or passenger can control systems like the heating, air conditioning, navigation, radio/stereo, and so on.

In Industries, the HMI is connected to the respective equipment or machinery, sending valuable data about its processes; if the equipment fails then the worker can notify and correct the changes in the HMI.
HMIs can also be used for electronic displays, such as being used in offices and similar workplaces.
Home and building automation also involve connecting multiple indoor systems together that can be controlled from a single interface; some building automation includes heating and air, humidity, lights, and security systems.
Audio/Video companies might use HMIs to control their microphones and video cameras.
Summary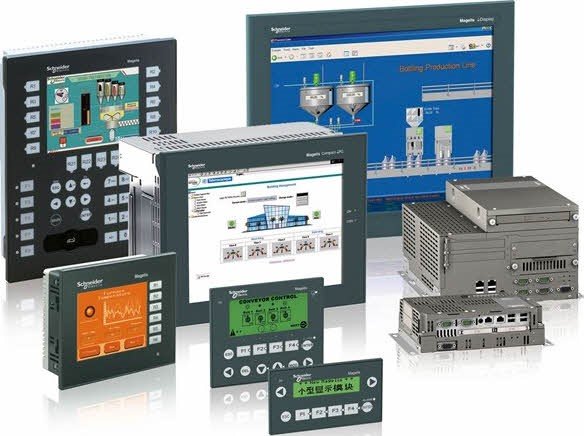 Article Name
Human Machine Interface (HMI) working and interfacing process