Video encoders which are also called as video servers are widely used to enable an existing analog CCTV video surveillance system to be integrated with a network video system. Video encoders play an important role where many analog cameras are to be maintained.
A video encoder makes it possible for an analog CCTV system to be added to a network video system. It enables users to gain the benefits of the network video system without having to discard existing analog equipment such as analog CCTV cameras and coaxial cabling.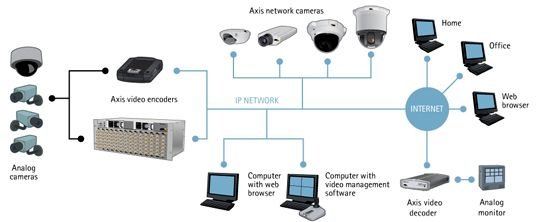 A video encoder connects to an analog video camera via a coaxial cable and converts analog video signals into digital video streams that are then sent over a wired or wireless IP-based network (e.g., LAN, WLAN or Internet). To view and/or record the digital video, computer monitors and PCs can be used instead of DVRs or VCRs and analog monitors.
By using these encoders analog CCTV cameras of all types can be remotely accessed and controlled over an IP network.
Video encoder components and considerations:
Analog video inputs for connecting analog cameras using the existing coaxial cabling system.
A processor for running the video encoder's operating system, networking and security functionalities, for encoding analog video using various compression formats and for video analysis. The processor determines the performance of a video encoder, normally measured in frames per second in the highest resolution. Advanced video encoders can provide full frame rate (30 frames per second with NTSC-based analog cameras or 25 frames per second with PAL-based analog cameras) in the highest resolution for every video channel. Axis video encoders also have auto-sensing to automatically recognize if the incoming analog video signal is an NTSC or PAL standard. For more on NTSC and PAL resolutions, see NTSC and PAL resolutions.
Ethernet/Power over Ethernet port to connect to an IP network for sending and receiving data, and for powering the unit and the attached camera if Power over Ethernet is supported. For more on Power over Ethernet, see PoE.
Serial port (RS-232/422/485) often used for controlling the pan/tilt/zoom functionality of an analog PTZ camera.
Audio in for connecting a microphone or line-in equipment and audio out for connecting to speakers.
Summary
Article Name
Video Encoders / CCTV Encoders
Author
Publisher Name
IPCS Automation Coimbatore
Publisher Logo