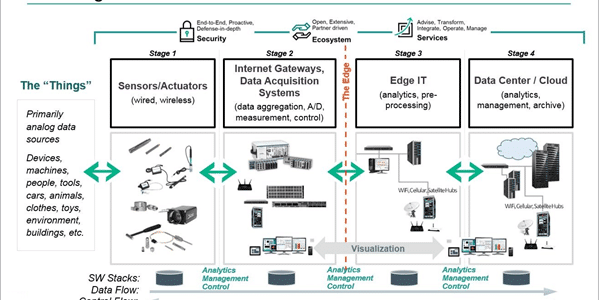 What is an IoT Platform?
A multi-layer technology that is used to manage and automate the connected devices is known as the IoT platform. In other words, it is an IoT service that helps you in bringing the physical objects online. This platform will provide you with the services to connect the devices for a machine to machine communication.
Internet of Things (IoT) is a software that connects the edge hardware, access points, and data networks to the other end which is usually the end-user application.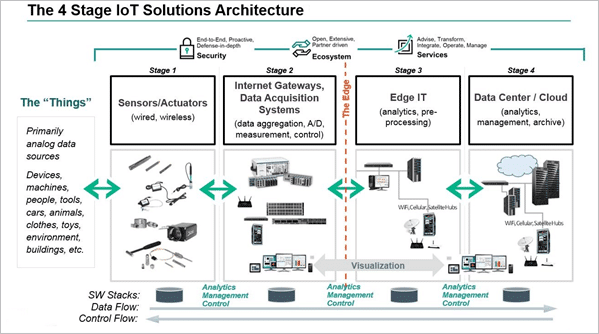 IoT Platform Comparison
IoT platform
Services
Device management platform
Price
Google Cloud Platform

Organizing, managing, and sharing documents.
Solutions for smart cities and buildings, and real-time asset tracking.
Yes
Price starts at $1758 per month.
Particle

Hardware, Connectivity, Device Cloud, and Apps.
Yes
Wi-Fi: Starts at $25 per device.
Cellular: Starts at $49 per device.
Mesh: Starts at $15 per device.
Salesforce IoT Cloud

Data from customers, partners, devices, and sensors.
—
Contact them.
ThingWorx

End-to-end Industrial IoT platform.
Yes
Contact them.
IBM Watson IoT

Connection Service, Analytics Service, Blockchain Service.
Yes
Starts at $500 per instance/month.
TYPES:
Google Cloud Platform
Google Cloud provides a multi-layered secure infrastructure.
It helps in improving operational efficiency. It provides predictive maintenance for equipment, solutions for smart cities & buildings, and real-time asset tracking.
Features:
Machine learning capabilities for any IoT need.
Real-time business insights for globally dispersed devices.
Artificial Intelligence capabilities.
Provides support for a wide range of embedded operating systems.
Location of intelligence.
Cost: Price starts at $1758 per month.
Particle

Particle provides the IoT solutions for hardware (sensors, actuators, etc.), connectivity, device cloud, and apps.
For connectivity, it provides three products i.e. Cellular, Wi-Fi, and Mesh. As an IoT software, it provides Device Operating System, Device Cloud, IoT Rules Engine, and developer tools. Particle platform is used by the Opti for training its weather casting product.
Features:
It will provide a robust and reliable infrastructure.
This platform can be used by anyone. No need for expertise.
It provides a firewall-protected cloud.
It can work with data even if it is on Microsoft Azure, Google Cloud, etc.
For data, it can be integrated with anything using the REST API.
It provides an all-in-one solution for hardware, software, and connectivity. There will be no need to invest time again in integrating.
Cost:
For Wi-Fi: Price starts at $25 per device.
For Cellular: Price starts at $49 per device.
For Mesh: Price starts at $15 per device.
ThingWorx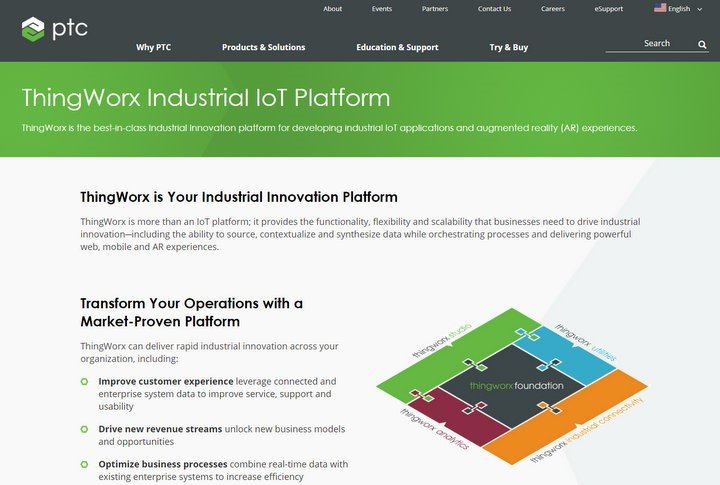 It helps in managing the development lifecycle for IoT applications.
It provides stretchability to access data and IoT from on-premise, off-premise, and from the hybrid environment. Use of ThingWorx will give you increased uptime, reduced costs, role-based visibility & control, and improved compliance.
Features:
Connect devices.
Analyze data.
Build and deploy solutions.
Industrial IoT and application data are accessible from on-premise web servers, off-premise cloud applications and as hybrid environments.
Cost: Contact them for pricing details.
Microsoft Azure IoT Suite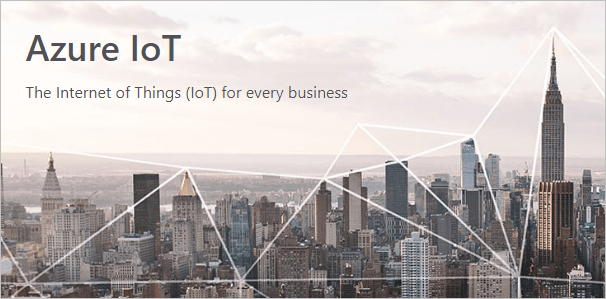 This Internet of Things solution is designed for different industry needs. It can be used from making transportation to retail. It provides solutions for remote monitoring, predictive maintenance, smart spaces, and connected products.
Features
It provides you with an open platform to build a robust application.
It can be used by beginners as well as experts.
There are two solutions to start with, as an Internet of Things SaaS and with the open-source Internet of Things Templates.
Samsung Artik Cloud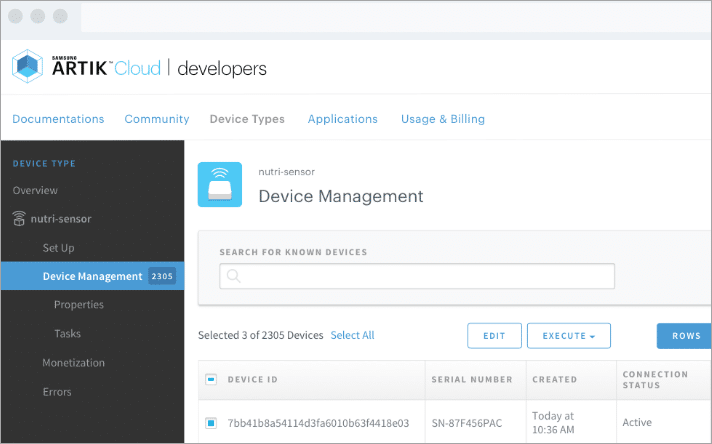 Artik Internet of Things platform is a solution for hardware, software, and cloud services. There is a more list of products that work with Artik cloud-like Fit Bit, Amazon Echo, Automatic, etc. Using Cloud connectors, an existing cloud can be integrated with the Artik Cloud services.
Features:
It can collect any type of data like discrete, continuous, real-time and historic.
It provides built-in security to devices, apps, and user interactions.
It offers built-in privacy management.
You can monitor the connectivity of devices in the cloud.
It monetizes the data which is shared by the IoT devices.
Cost: There is a free plan. The small business plan price starts at $15 per one million messages.
Adafruit IO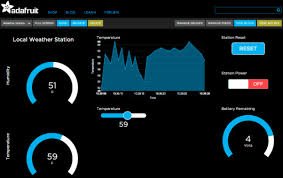 Adafruit.io is a cloud service – that means we run it for you and you don't have to manage it. You can connect to it over the Internet. It's meant primarily for storing and then retrieving data but it can do a lot more than just that!
What can Adafruit IO do for me?
Display your data in real-time, online
Make your project internet-connected: Control motors, read sensor data, and more!
Connect projects to web services like Twitter, RSS feeds, weather services, AWS, etc.
Connect your project to other internet-enabled devices
The best part? All of the above is do-able for free with Adafruit IO
BLYNK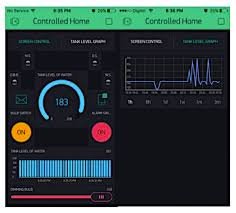 Blynk was designed for the Internet of Things. It can control hardware remotely, it can display sensor data, and it can store data, visualize it and do many other cool things.
There are three major components in the platform:
Blynk App – allows to you create surprising interfaces for your projects using various widgets we provide.
Blynk Server – this server responsible for all the communications between the smartphone and hardware. You can use our Blynk Cloud or run your individual Blynk server locally. Its open-source could simply handle thousands of devices and can even be launched on a Raspberry Pi.
Blynk Libraries – for all the most useful hardware platforms – enable communication with the server and process all the incoming and outcoming commands.
UBIDOTS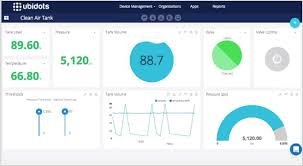 Ubidots offers a platform for developers that enables them to simply capture sensor data and turn it into useful information. Use the Ubidots platform to send data easily to the cloud from any Internet-enabled device. You can then configure actions and alerts based on your real-time data and unlatch the value of your data through visual tools. Ubidots offers a REST API (Representational State Transfer) that allows you to read and write data to the resources available: data sources, variables, values, events, and insights. The API (Application Programming Interface) supports both HTTP and HTTPS and an API Key is required.
Conclusions:
These are the IoT platforms.it is easy to use and read data from cloud management. IoT main things for Sensors, actuators and data collection. The number of IoT platforms are there. These are the few concepts that can be explained.