What is home automation (HA)?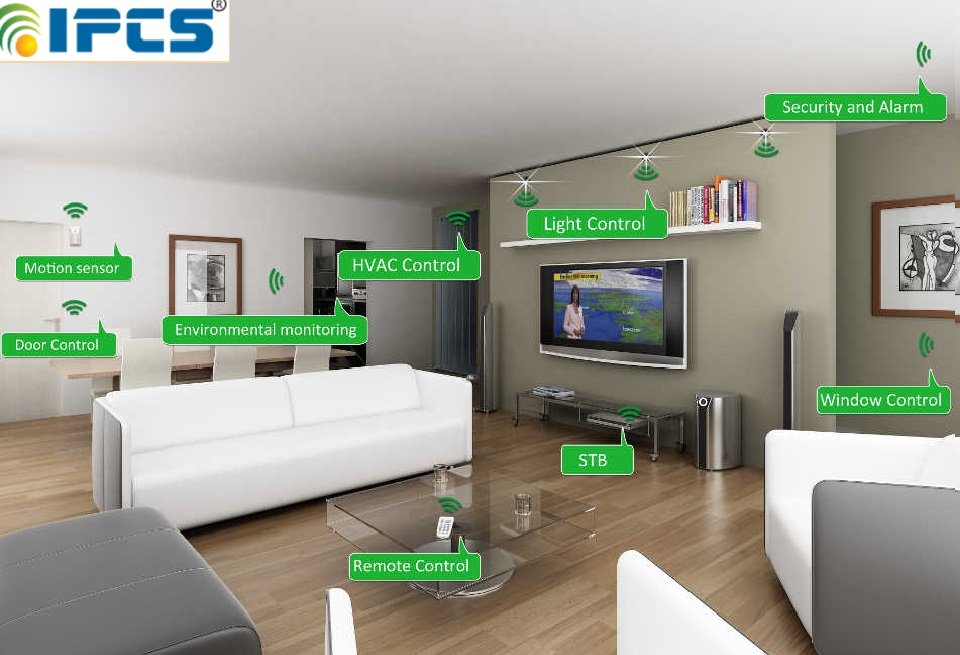 Home Automation (or Domotics) is automation specific to the requirements of private residences. It applies techniques for the comfort, security, entertainment and communications needs of it is
In simplest terms it is control and monitoring of devices and

Lighting and appliance control
Heating, ventilation and air conditioning (HVAC)
Energy/Resource management
Security and access control (SAC)

Doors and windows control and monitoring
fire alarm (FA), fire, life, and safety (FLS)
CO alarm
Flood/Water Alarm

Communications (voice and data)
Entertainment control
Information processing (things like resource management)

Thunderstorm/Tornado/Tsunami/Earthquake/ Weather w
It is all these things integrated into a single package and is quickly including things outside the
Because of this HA is now becoming a misnomer
 perhaps a better name would be Smart Home Information Technology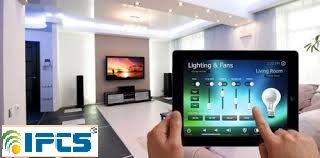 What can you do with HA?
With HA you control and monitor devices and information

Sprinkler system (device)
monitor your email (information)

trigger things based on time, temperature, email or something else. (information)
Security

monitoring doors and windows
fire, smoke, water & CO
Entertainment

music

Streaming/Juke box
Internet Radio
Podcasting

TV

live
recorded (VCR, DVR)
Streaming video
video casting (YouTube)

Radio
Weather

prediction
recorded history
current temperature, humidity, wind, barometric pressure, rain fall,
phase of the moon
tides
Internet
Thunderstorm/Tornado/Tsunami/Earthquake warning
Home Automation Introduction
Home automation, It often starts with holiday lights
You don't need a computer for this
A simple timer or a remote and some modules will do
HA Introduction
Typical hardware you'll start with:

Lamps modules
Computer interfaces
A desktop control is not a bad idea also

You expand to control other appliances typically lights
Has a very high 'Geek factor'
Wild ideas begin to fill your head
Reality sets in when gremlins strike
SAF is very important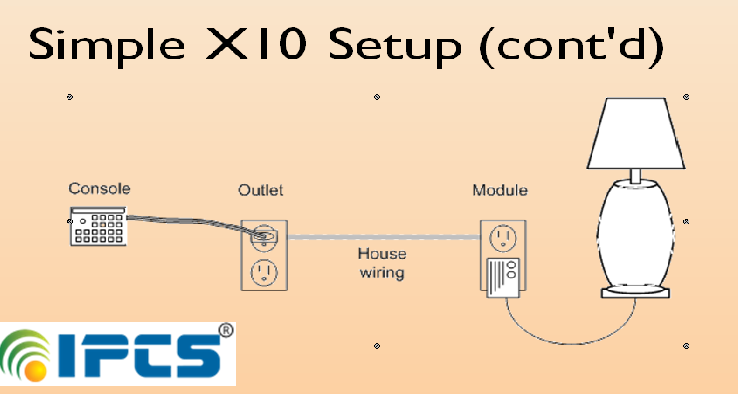 2011, the year of convergence
Disruptive technologies

Open Source/FOSS community
Linux / GNU utilities
X10 patents expiring
Touchscreen technology (resistive/capacitive)
ARM processors & cell phone usage
Apple iPod/iPhone
Android
The App Store
Technology
PLC – Power line carrier or communications-  X10
Z-Wave & ZigBee (900 MHz/2.4GHz) both are wireless mesh
Direct IO (Digital and Analog)
Networked (IP, RS485, IButton, SPI, wireless)
PC Interface (USB, serial, PCI board)
What can you do with it?
Lights and appliances (direct, power line or wireless)
TV, VCR, DVD, Tivo (IP network/IR)
Monitor weather
Temperature
Thermostats
Internet Information
Computer Interfaces
Lots of different vendors, interface types and communication protocols
Serial, USB, and IP
Some are plug like some a USB stick like (Z-Wave for example)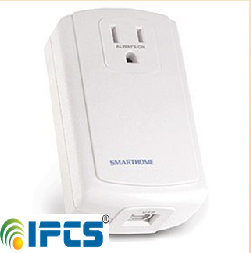 Modules
Lamp module
Appliance module
Digital/Analog I/O module (Sprinklers)
Universal module (digital input)
Wireless module
Wall Switches
Some control loads
Some only transmit a command
some do both
They do come in different colors and styles
KeypadLincs
Some only send commands
some can control one load (appliance control)
the ones with a load can receive commands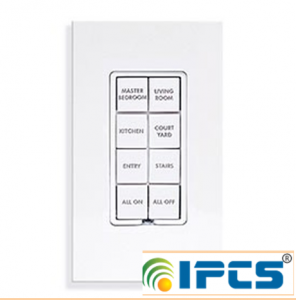 KeypadLinc w/Dim
Controls an electrical load
Sends commands
can send group
on/off
dim/bright
Wall Outlets
Insteon OutletLinc
on/off
X10 Super Socket – I don't recommend this product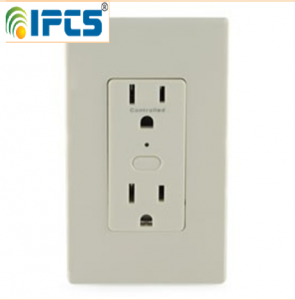 Z-Wave Lock sets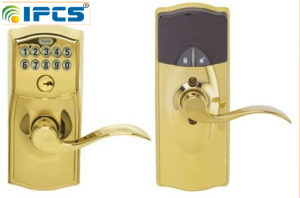 Wireless Thermostats

Table top controllers
Ugly but useful
Smarthome has a lot of useful features
Mini console – 4 buttons (useful for testing)
Maxi Console – 16 buttons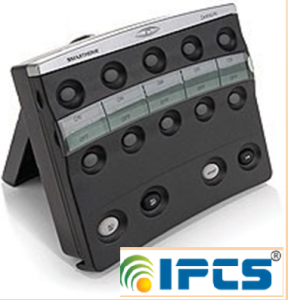 Insteon Remote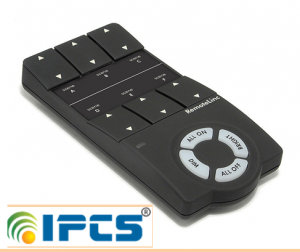 Misterhouse (MH)
MH is written entirely in
It has a rather strange Object Oriented method of coding because MH writes some of it's Perl code at startup
Very flexible because it's able to take advantage of the existing library of Perl Modules.
Starting out is not terrible complex but some knowledge of Perl is
Plenty of examples exist
Mail lists are very friendly and
Plug Computer
ARM (v5) processor
1G Hz
512M RAM
512M Flash/ SD slot
No math coprocessor
No fan
4 Watts of power
Linux based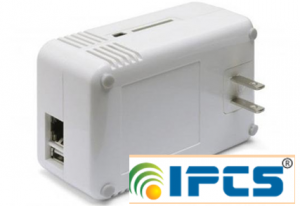 Misterhouse (MH)
Control & Interface-  X10
Insteon
Z-Wave
UPB
KNX/EIB
Direct I/O
1-wire/IButton
IP (TCP, UDP, HTTP, …)
Misterhouse (MH)
IR
transmit
receive
Wireless remotes (non X10/Insteon)
Macros
Triggers
Tables (.mht ->.mhp)
Misterhouse (MH)
Speech – TTS
Listen – STT
Weather
News
On this day, fortune
Comics
TV Guide
Home Layout – Floor Plan
Misterhouse (MH)
Grocery list
Organizer/Calendar
Stocks
email
Home Security
custom Perl code
custom web pages
Web Interface & Demo

Floor plan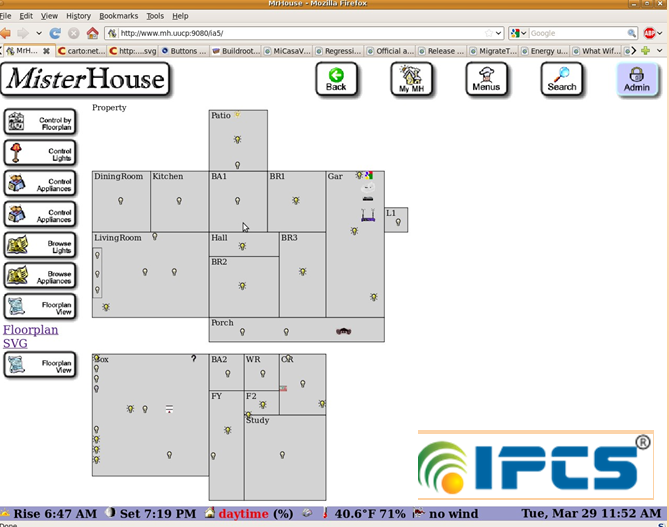 Custom Web page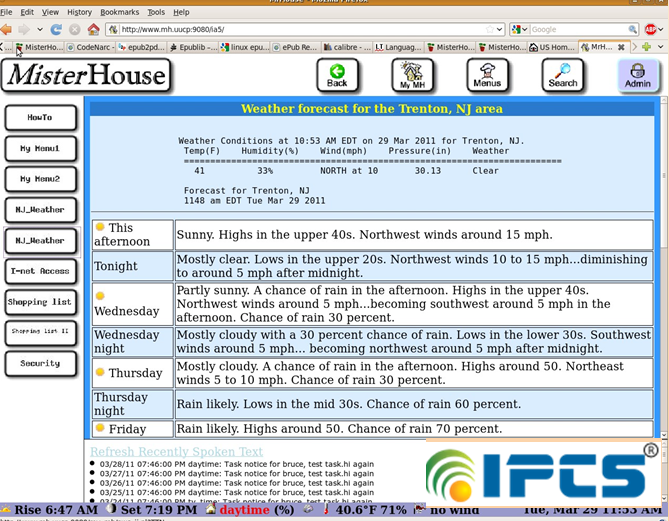 MH .mht file
# Type     Address     Name                    Groups #
X10A,      01,            Holiday_Lights,       Holiday|O,
X10A,      O1,          xO1,                      Holiday|Test|O,
X10A,      01,          Backup_Lights,        Holiday|O
, X10A,    O2,          xO2,                      Holiday|Test|O,
X10A,      O3,          xO3,                      Holiday|Test|O,
X10A,      O4,          xO4,                      Holiday|Test|O,
X10A,      O5,          xO5,                     Holiday|Test|O,