Temperature is a physical quantity expressing hot and cold. It usually measured with a thermometer in one or more temperature scales. Most commonly used scales are the Celsius scale (denoted °C), Fahrenheit scale (denoted °F) and Kelvin scale (denoted K).
Mainly, there are two types of measurements one mechanical types of temperature sensing and the other one is an electrical type,
| | | | |
| --- | --- | --- | --- |
| Units | To Fahrenheit | To Celsius | To Kelvin |
| Fahrenheit (F) | F | (F – 32) * 5/9 | (F – 32) * 5/9 + 273.15 |
| Celsius (C or o) | (C * 9/5) + 32 | C | C + 273.15 |
| Kelvin (K) | (K – 273.15) * 9/5 + 32 | K – 273.15 | K |
Mechanical Temperature Sensing
Mechanical types of measurements used where we do not need any signals to control any equipment or no records are required, it is an old type of temperature measurement, it commonly used because of its simplicity, and it usually used in domestic applications.
A change in temperature produces a mechanical motion because most materials expand with a rise in temperature.  Mechanical thermometers constructed by the use of liquids, solids, or even gases as the temperature-sensitive material. The mechanical motion read on a physical scale to represent the temperature.
Mainly used mechanical temperature sensors are
A liquid in Glass Thermometers
Bi-metal
A liquid in Glass Thermometers are generally a glass bulb attached to a sealed glass tube called the stem or capillary tube A very thin opening and the bulb is typically filled with either mercury or red colored alcohol. It expands and rises up into the tube when the temperature increases and contracts and move down the tube when the temperature decreases. It is commonly used and due to inexpensive to make and easy to use. Mainly used Liquid in Glass Thermometer are
Mercury Thermometer
Alcohol Thermometer
In Mercury Thermometer Mercury used as sensing liquid and it expands and contracts by changes in temperature. Mercury thermometers cover a wide temperature range from −37 to 356 °C. It usually used to determine the body, liquid, and vapor temperature. One of the main disadvantages is Mercury Is hazardous liquid.
Alcohol Thermometer uses less toxic content alcohol as the temperature sensing element. Ethanol version is the most widely used and its temperature range is. −200 °C to 78 °C. Low cost and relatively low hazard posed by the liquid in case of breakage. Bu alcohol evaporates quickly.
Bimetallic Dial Thermometer is one of the mainly used for meter reading in industries. The measuring element consists of two metal stripes permanently joined together. Each metal having a different thermal expansion coefficient. The coiled measuring element is fixed at the end of the stem; the other side is connected to the pointer axle.
The bi-metal stretches or bends itself in case of a change in temperature, causing the coiled element into a turning movement. This movement is proportional to the change in temperature and indicated on a dial. Is can obtain temperatures range from – 50°C up to +500 °C.
Electrical Thermometers
Electrical Thermometers used to measure temperature electronically; it applied in Medical Instruments, Industrial Automation, Electronic, and electrical devices, and wherever temperatures recorded and used as the reference to control. Some of the techniques are Thermistors, Thermocouples, and Resistance Thermometer.
Thermocouples
It consists of two different types of metal joined at a junction, as the junction is heated, the electrons in one of the metals gain enough energy to migrate across the junction and into the other metal. This displacement of electrons produces a voltage across the terminals of the thermocouple. The thermocouple has a wide measurement range of temperature ranges from 200 °C to 2,600 °C.
 Thermocouple IEC Colour code
It is standard for thermocouples; there are different types of thermocouples, and those colour codes and temperature ranges represented in the table below: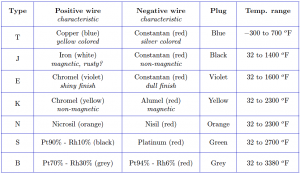 Resistance Temperature Detectors (RTD)
It is one of the commonly used temperature sensors operates on the principle that the electrical resistance of a metal changes predictably with changes in temperature RTD have a positive temperature coefficient (resistance increases with temperature), Elements used Platinum and BALCO (composition of 70 percent nickel and 30 percent iron). RTD can cover a temperature range of -400 °C to 12, 00 °C.
RTD Configurations
Two-wire construction result in lead wire resistance added to the element resistance. The temperature reading is artificially high while measuring. Least accurate compared to other configuration.
Three wire almost cancels lead wire resistance by adding another lead wire. Temperature reading artificially high compared to a four-wire sensor. Less accurate compared to a four-wire sensor.
Four Wire sensor added sensitivity by adding one additional connection on both ends of the lead wire. Actual resistance of the lead wires can be determined and lead resistance completely removed from the sensor measurement.
Temperature Transmitters
A temperature transmitter is an electrical instrument that interfaces a temperature sensor. Typically, temperature transmitters isolate, amplify, filter noise, linearize, and convert the input signal from the sensor then send (transmit) a standardized output signal to the control device. Common electrical output signals used in manufacturing plants are 4-20mA or 0-10V DC ranges.
Example:- 4mA could represent 0°C and 20mA means 100°C.

IPCS Automation
IPCS Automation is one of the leading Automation Course providers in India and also out side part of India also we are providing PLC Training in Chennai. Our facultys are expert in training feild and also in the industry.