Confused between NVR and DVR?
Security cameras add a level of security to your home or business. Aside from keeping an eye on everything, they're a great way to deter potential criminal activity. Your security camera's footage will tell you exactly what is going on around your property, whether home or business. Video surveillance is when you monitor actions, behaviors, and events. Thus you can manage, direct, or protect people and their surroundings.
NVR and DVR cameras can be easily accessed, viewed, and configured after connecting it with a monitor. Both are used for video recording and storage. Before setting up a video surveillance system, you have to make a choice between a DVR or NVR security system. This is very important because it decides many factors like cost, video quality, installation, etc.
DVR (Digital video recorder)
A Digital Video Recorder system works with analog cameras. DVR has a small chip inside of it. This chip encodes and processes the analog videos into digital format.  Thus you can view and playback the recordings. In a DVR system, hard wiring is the biggest challenge. Each camera will have two cables to deal with, one for power and one for audio and video. Things will be much complicated if you monitor places out of reach with coaxial cables.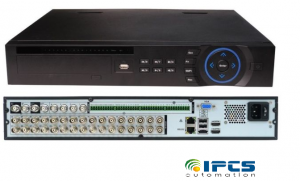 Even though the recording quality of analog cameras is improved, it still cannot catch up with the NVR cameras. Also may cost a higher price than NVR cameras. If the DVR cameras are placed more than 300 feet away from the DVR, the more the chance to decay the signal.  In DVR system, 720p, 2MP (1080p) are most popular. But in NVR system, 2MP, 4MP, 5MP, and 12MP (4K) systems are commonly seen. In order to produce high-quality images, a DVR system needs highly priced video processor chips which increase the cost.
The coaxial cables are exposed to environments like rain or strong wind. So with the pass of time, you'll much likely to pay an extra bill in fixing the cable issues. With the increasing popularity and advantages of  NVR systems, DVR systems gain decreasing market share every year.  It would be difficult to get a local DVR system repairman in the future when it becomes truly outdated.
NVR(Network video recorder)
An NVR system does not need any dedicated video processing hardware. It saves the encoded videos from IP cameras from the network. NVRs are paired up with IP cameras. Its resolution starts from 2MP to 12MP or higher. This is essential to identify the intruder's face and plate number. This is an out of the question for analog cameras in a DVR security system.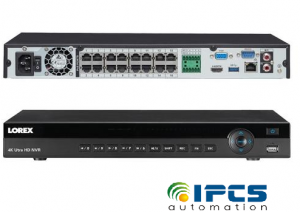 One of the most difficult works in setting the security system is the cabling work itself. With  NVR security system there is no need to worry about how to run the wire to the Network video recorder. Through wifi, NVR can be connected to the cameras wirelessly through the network.
It is possible to place NVR virtually anywhere as long as the network is available. This is made possible because the NVR uses IP network cameras. Unlike DVR, NVR is not limited by coax cable, with a max transmission distance of about 300 ft.
P2P NVR security cameras come up with literally ZERO network configuration. It works with a network video recorder software. The IP cameras will automatically show up in the LAN network device list. By adding the cameras to the client with your password and the setup is done. By entering the UID (unique ID number) of the network video recorder and its password in the NVR camera app, you can access it via mobile phone.
Which is best?
If you have analog cameras or coax cable installed, a DVR camera system may be the best solution. NVR security camera system can make the whole installation and configuration easier. Even if you are a beginner, you can easily deal with it. NVR can provide a higher level of security in home or business. Hence it is recommended.