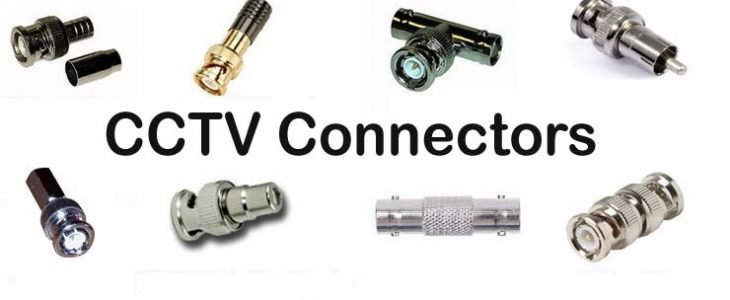 DC CONNECTOR IN CCTV
DC Connector is used as for electrical connector for supplying direct current.DC connector is used in CCTV for supplying direct current power for CCTV camera. DC connector's dimensions and arrangement can be chosen to prevent the accidental interconnection of incompatible sources and loads.
BNC CONNECTOR IN CCTV
BNC Connector in CCTV is used to connect the CCTV Camera with the DVR (Digital Video Recorder), which enable us for the live video from the Security Camera. There are major 3 types of BNC Connectors, they are
Twist-on-BNC Connector
Crimp-on-BNC Connector
Compression-BNC-Connector
From the above different types of connectors the strongest connector is Compression-BNC-Connector because it needs a special compression tool to make the connection, because of this the BNC connector connected to the RG59 cable cannot be pull it out. The Twist-on-BNC connector is also difficult to pull it out, but the Compression-BNC-connector is much better.
When we use the BNC connector to connect the cable we should need a compression tool to make the connection.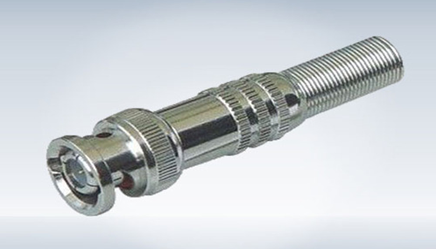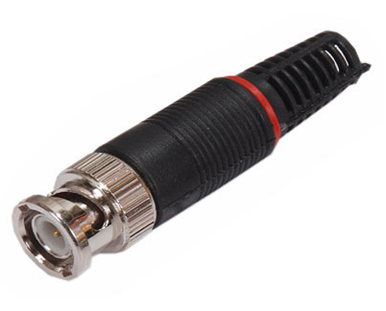 RJ45 CONNECT
A RegisteredJack (RJ) is a standardized physical network interface for telecommunication between two devices. The registered jacks use are mainly 8 position,8 pin connectors used for terminating twisted pair Ethernetcable. There are two Wiring schemes T568A and T568B, this are used to terminate the twisted pair Ethernet cable onto the connector interface. Below shows the two colour scheme for the connection between RJ45 pin and Ethernet cable,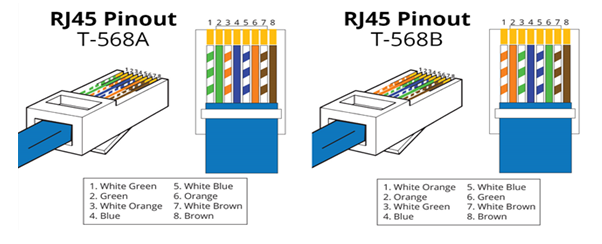 There are two types of connection,
1. Straight through Cable
In Local Area network the straight Through Cable is used to connect the computer with the network switch or modem for the communication. The straight through cable is a twisted pair cable type. The Straight through cable is used to connect different devices that shown below,
1.Switch to Router
2.Switch to PC or Server
3.Hub to PC or Server
Below shows the colour code for the straight through cable
2.Crossover Cable
The Crossover cable is used to connect two same devices directly for the communication. The Crossover cable uses two different wiring slandered, the one end use T568A wiring slandered and the other end use T568B wiring slandered.The Crossover cable is used to connect different devices that shown below,
 1. Switch to Switch
2. Switch to Hub
3.Hub to Hub
4.Router to router
5.Router Ethernet port to PC NIC
6.PC to PC
Below shows the colour code for the Crossover cable,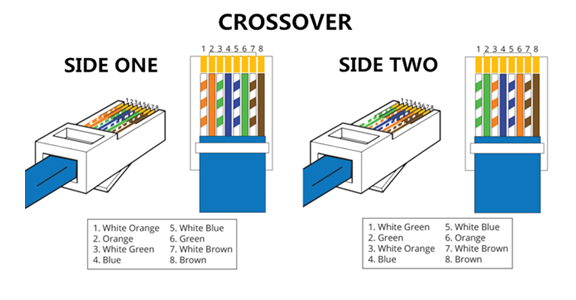 RJ11 CONNECTOR

In Telecommunication RJ11 is most widely implemented registered jack.RJ11 is used to establish a bridged connection for one telephone line. Six position two conductor connectors is used in RJ11.
The RJ11 connectors work with audio and data devices and it allows them for communicate with service providers.

There is a lot more to CCTV Connectors than this, you can learn in depth about CCTV Connectors in our IPCS CCTV Training in Kochi.