Multi functional Smart Meter is a high-tech product developed in recent years on the basis of electronic meter. Its composition and working principle are very different from the traditional induction meter. The intelligent electronic meter is mainly composed of electronic components, its working principle is through the real-time sampling of user power supply voltage and current, and then use special electric energy meter IC Processing of sampled voltage and current signals, and converted into electrical energy and pulse output is proportional to the final processing, control through the micro controller, display for electric pulse quantity and output.
Multi function meters were first invented during the early 1920s. They were mostly in the form of radio receivers and vacuum tube electronic devices. The first millimeter was invented by Donald Macadie. He was dissatisfied with carrying separate instruments for maintaining the telecommunication circuits. It is when he invented a unique instrument that can measure volts, ohms, and amperes. At that time, the multi function meter was known as Avometer. This meter comprised of voltage and precision resistors, sockets and switches for selecting ranges and a moving coil meter.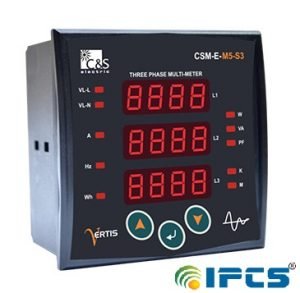 Multi function meter is specifically designed and made for the electrical monitoring requirement of power distribution system. Multi function meter (MFM) is with high-precision measurement all of the common electrical parameters including of
Phase – Phase voltage
Line – Neutral voltage
Three-phase current
Active power (KW)
Reactive Power (KVAR)
Frequency (Hz)
Power factor
Four-quadrant energy (KWH)
Multi function meter can directly replace conventional power transmitter, measuring indicating instrument, electric energy measuring instrument and the related auxiliary unit. With modular structural design, users can choose the most economical functional configuration according to the actual requirement, which is highly cost-effective.
A multi function energy meter is widely used in the industry sector. It is widely used for motor control centers, control panels, Genset panels, power distribution panels, and so on.
Multi function energy meter is very useful for industries across India and the globe. It helps in reducing energy cost by constant monitoring and tracking energy consumption. It also takes the backup of other integrated parameters.
A multi function energy meter can also be a hand-held device that can be used for basic fault-findings in the electrical system. It can also be a bench instrument which can ensure a high degree of accuracy in its calculation.
These are helpful in troubleshooting a wide range of electrical problems such as for domestic appliances, electronic equipment used in the industry, power supplies, motor controls and the wiring system etc.
Multi function meter is widely used in occasions of energy management systems, supply and distribution network automation, district power control and complete sets of switch gear. It has the advantages of convenient installment and maintenance, sample wiring, small quantity, programmable input parameters and capable of the network with different PLC, industry control computer communications software.