Air conditioner
An air conditioner (AC) works by collecting warm air from a space, process it and release cool air into the same space from where the hot air is collected. Air conditioning systems mainly consist of five components
Evaporator
Compressor
Condenser
Expansion valve
Refrigerant
Working of Air Conditioner
The hot air from room flows over evaporator coil through which the refrigerant is flowing. The refrigerant liquid absorbs the heat and it becomes a hot gas. This hot refrigerant gas is pass on to the compressor. The compressor compresses the gas so that refrigerant temperature and pressure will increase. This hot, high-pressure gas then travels to the condenser. In condenser, hot refrigerant gas becomes a cooler liquid because the heat of the refrigerant gas is dissipate to the surroundings. Cold refrigerant liquid flow to the expansion valve. Expansion valve reduce the pressure of refrigerant. Then the refrigerant arrives at the point where its process started.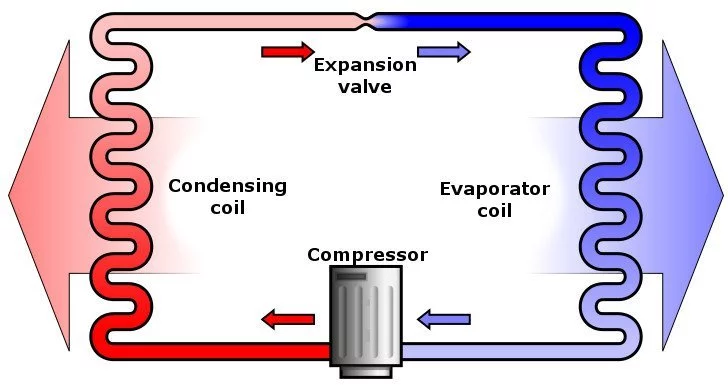 Inverter Vs Non-Inverter Air Conditioner Unit
When it comes to selecting air conditioner to install, there are two main technologies to be considered  the inverter and non inverter air conditioner. These both air conditioner system offer similar function but are different in terms of what type of compressor motor is running the system.
Non-Inverter Air Conditioner
The non-inverter ac is fixed speed ac which turn on or off  repeatedly  to controlling the  room temperature. A non inverter air conditioner unit has a fixed speed compressor motor which helps to  provide a fix cooling by start and stop the compressor when required. The compressor automatically turn off when the desired temperature is reached and turn on again when the temperature increases.


Advantages
Disadvantages
Maintenance cost is high
Short
Noisy operation
Inverter Air Conditioner
Inverter air conditioner are variable speed or variable tonnage air conditioner. The compressor and controller of inverted ac are different from that of non inverted ac. Here an Inverter is used to regulate  the speed of the compressor motor, so that the continuous temperature control  is possible. This ability of an Inverter Air Conditioner to change the speed of the compressor motor eliminates stop-start cycle of compressor. It makes the Air Conditioners less prone to damage, more energy efficient and provides superior cooling.


Advantages
Faster cooling
soundless operation
energy efficient
Suitable for large and small rooms
Disadvantages
Repair and Maintenance are expensive
Higher cost compared to non inverted ac