What is haptics?
Haptics is a subsystem of non-language communication. And it conveys meaning through physical contact. Haptics is a technology that uses touch (tactile) sensation to control and interact with computers. We may apply a sense of touch through vibrations, motion or force. This technology is used mainly in creating virtual objects, controlling virtual objects or in the improvement of the remote control of machines and devices. The word Haptic is derived from the Greek word "haptikos," which means a sense of touch.
Haptic information:
In Haptics technology the information transfer is made possible by using the combination of tactile information and kinesthetic information. Where tactile technology is the tactic of integrating multi-sensory triggers within physical objects thus allowing real world interactions with technology. We can bring the digital and physical world together by using tactile controls by simply it refers to the information acquired by the sensors connected to the body. And the kinaesthetic information refers to the information acquired by the sensors in the joints. Basically Haptic interactions loop with user and virtual environment.
Virtual environment:
To create Haptics, virtual reality allows the user to interact with the computer simulated environment. Now the user can interact with the virtual reality either through input devices or through multimode devices. The simulated environment may be similar or different from the reality. It is very difficult to create high fidelity virtual reality experience due to some technical limitations.
Haptics technology:
Haptic technology recreates the sense of touch by applying forces, vibrations, or motions to the user. This mechanical stimulation can be used to assist in the creation of virtual objects in a computer simulation, to control such virtual objects, and to enhance the remote control of machines and devices. Haptic devices may incorporate tactile sensors that measure forces exerted by the user on the interface.
Types by which Haptics be created:
Vibrations
Force feedback
Non -contact Haptic technology
Vibrations:
The majority of electronics offering Haptics feedback uses some vibrations. And most commonly it use a type of eccentric rotating mass actuator, consisting of an unbalanced weight attached to a motor shaft. When the shaft rotates, the spinning of the irregular mass causes the actuator. And in turn the attached device is set to shake.
Force feedback:
Certain devices use motors to manipulate the movement of a peripheral held by the user. It commonly used in automobile driving video games and simulators, which in turn the steering wheel to simulate forces found when cornering a real vehicle.
Non-contact Haptic technology:
The non-contact, mid-air or Haptic technology utilizes the sense of touch without the physical contact of a device. This type of feedback involves interaction with a system that are in a 3D space around the user. Hence the user can able to work on the system without holding any physical input device.
Design of Haptics system:
For designing the Haptics system it needs
Haptic interface
Actuators
Driver
Sensors
Haptic rendering
Software
HAPTIC INTERFACE:
It consist of a Haptics device and a software based computer control mechanisms. This enables the communication between human to machine communication through sense of touch.
ACTUATORS:
Normally an actuator is a component of a machine that is responsible for moving and controlling a mechanism or system. Actuators used to vibrate the device in a specific pattern. The type of actuators will determine the solution and quality of the Haptic effect.
DRIVER:
Driver is the part of the electrical design and driver is like bridge between the controller and the actuators.
SENSORS:
Sensor is responsible for sensing the information exerted by the user on a certain objects and sending these data's to Haptics rendering module.
HAPTIC RENDERING:
Haptic rendering can be defined as the process of displaying computer controlled forces on the user to make him or her sense the tactual feel of virtual objects. Haptic rendering is the software controlled Haptic virtual object creation process. Here the interaction occurs at an interaction tool that mechanically couples two controlled dynamical systems where control is done by two steps.
Haptic interface with a computer
Human user with the nervous system
This may done in three main process:
Collision detection algorithm
Force response algorithm
Control algorithm
SOFTWARE:
Here the software generates the Haptic waveform and resides on an applications processor, Microcontroller or integrated driver.
Types of Haptic devices:
Majorly Haptics devices are classified under three types:
Based on dimension
Devices that allow user to touch and manipulate 3D visual object.
Devices that allow user to "feel "texture of 2D objects.
Based on virtual reality/ Telerobotics
Exoskeleton and stationary devices
Gloves and wearable devices
Point source and specific task devices
Locomotion interfaces.
Based on feedback
Force feedback device
Tactile display device
Control system used in Haptics devices:
Impedance control system
Admittance control system
Hybrid control system
Adaptive control system
Robust control system
Optimal control system
Example devices:
PHANTOM:
Phantom is developed by sensible technologies. This provides a 3D touch to the virtual objects.it has six degree of freedom positioning sensing. when user moves his/her finger then he/she could really feel the shape and size of the virtual 3D object. It can model free floating 3 dimensional objects.
CYBERGLOVE:
It can sense position and movement of fingers and wrist.it fits over user's hand and adds resistive force feedback to each fingers.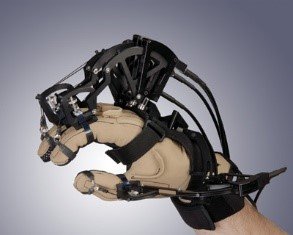 MAGNETIC LEVITATION HAPTIC INTERFACES:
It's a technology for feeling total sensation over total body.