IRIS RECOGNITION TECHNOLOGY
 The iris pattern of an individual's eyes is complex patterns. These unique patterns belong to the ring-shaped region surrounding the pupil of the eye. Upon close inspection, iris can be seen in blue, grey, brown or greenish color. The structure of iris remains stable throughout an individual's life and that makes iris the best biometric for establishing the identity of an individual.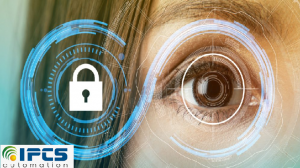 Why iris?
Iris recognition technology which is considered as one of the most accurate biometric technology deals with the recognition based on human iris. The unique feature of iris provides an easy option to prove a person's identity based on his biometrics, anywhere, any time.
Biometric system
The term biometric is related to the application of statistical analysis of biological data, and that can be used to prove who the person is. It simply involves taking the high-resolution images of the face, fingerprint, hand, DNA, iris etc. And this picture is solely used for authentication.  Among this, Iris is the best choice because of its low margin of error and fast speed. The task is performed with the help of an iris recognition software. Pattern recognition is utilized for reading and matching the iris pattern of a person against the pattern stored in the biometric database. That means this software compares the live iris image with the database of iris of that particular person. The most trusted way of confirming the identity of a person is nothing but iris recognition technology itself.
What makes iris recognition a good choice?
Iris is less susceptible to damage because of the well-protected nature of the eye and it doesn't degenerate with aging. Even if the person is wearing eyeglasses or contact lens, it makes no effect on reading the pattern. Reproducing a fake iris match is nearly impossible. It is due to the reason that the iris recognition system converts the captured iris image into a 512-byte encrypted biometric temple.  Even identical twins don't possess the same iris pattern. When it comes to iris recognition, it is really user convenient. A user just needs to look at the camera, and the identification process completes smoothly.
Applications
Most of the financial institutions are using iris technology replacing pin and password based systems.  It is time-consuming for a banker to go through all the documents to verify the identity of the customer. With iris recognition technology, they can save time and can utilize this time to customer services. Thus it improves the standard of financial services.  This can be employed at airports which require high security. The same technology can be implemented for public safety also and most of the countries have implemented it to recognize their citizens. In short, high-value locations can be protected from unwarranted visitors by denying access to them through implementing Iris recognition technology.