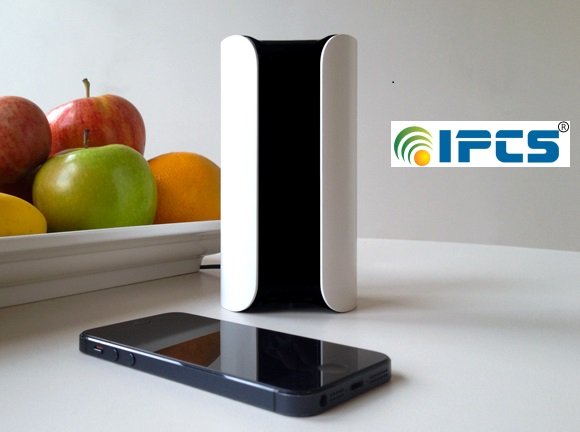 Introduction
With the evolution of CCTV technology, the emphasis has moved from simple monitoring of video footage, to today's intelligent systems that are capable of identifying abnormal events or behavior.As intelligence increases in these systems, so too do the applications for this technology. Surveillance technology can now be used to observe consumer behavior in a retail environment and help organizations to increase revenue and profitability, while at the same time monitoring a store to reduce shrinkage.
This document explains some of the benefits of "intelligence" in IP surveillance systems, and the advantages of working with Allied Telesis IP video surveillance solutions.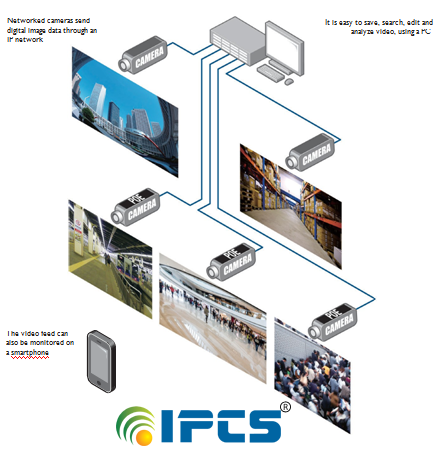 IP camera usage has grown rapidly:
There has been a rapid transition from using analog cameras to using IP cameras. This has been driven by IP cameras' advanced features and ease of use. As the production of IP cameras has increased, the prices have decreased. The trend towards using IP cameras will certainly continue, both in the expansion of existing surveillance systems, and in the installation of new surveillance systems.

Technology Brief
Digital video surveillance growth
Numerous factors have led to a growth in digital video surveillance, including the following:
Most of the world is moving from analog to digital broadcasting. Digital video provides higher resolution images.
IP is becoming a universal communication medium. It is used for telephony, video conferencing and TV distribution.Video Video analytics is the ability to automatically analyze video data, to detect and determine temporal and spatial events. This is one of the key reasons for digital video growth.As the reliability, image resolution and video analysis capabilities of surveillance systems improve, the demand for these high-end features continues to grow.
The following table contains at a glance comparisons between analog and IP cameras:
The Major Advantages of IP Cameras
High definition digital images are sharper and clearer than the lower resolution images typically produced by analog surveillance cameras.Digital video can be stored on a variety of media—PC hard drives, Network- Attached Storage (NAS) systems, and more. Digital images do not degrade, regardless of how long they are stored. Furthermore, they can be searched quickly, even if large volumes of data have been stored.
Remote monitoring by smartphone

Video feeds can be monitored remotely from anywhere, using a smartphone or tablet, with a suitable App

Simpler operation
Depending on the system,it is possible to m onitor the digital video feed by using standard PC software.The images are stored as MPEG or H.264, so selected video segments can be written to a DVD or USB stick for simple transport, display, or to be analyzed.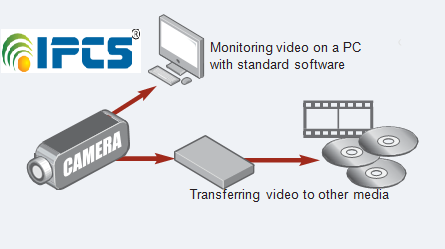 Video analytics
Video analytics software is now achieving a high level of accuracy.
A number of systems are available for different types of automated video monitoring and analysis.
Different video analytics software can be chosen for different purposes. A variety of mundane monitoring tasks can be automated, with a low rate of errors.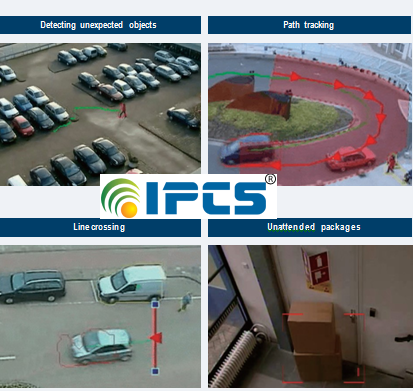 Simple installation and cabling:
By using Allied Telesis Power over Ethernet (PoE) switches, power can be provided to cameras without needing
Specific power supply cables to them. The camera needs just a single UTP Ethernet cable run to it from its local switch. This simplifies the installation process.
As a result, even after the initial installation of the system is complete, any subsequent alteration or expansion of the surveillance network is also simplified.
PoE-capable cameras must be used to take advantage of this benefit.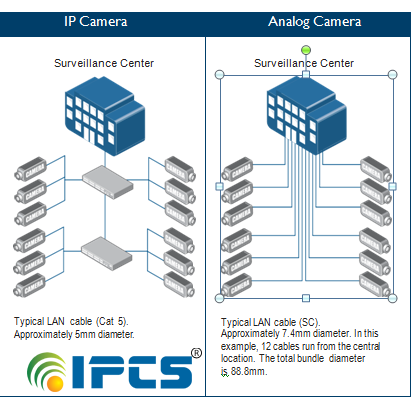 Easy distribution and system scalability:

Video feeds from IP cameras can be monitored from remote sites. Additionally, the feeds can be transmitted across the Internet to locations outside the business. The feeds can also be viewed upon multiple displays or devices simultaneously.
Through integration with the existing Ethernet/IP network, the operation of the surveillance network can be incorporated in an organization's IT environment.
IP networks are easily scaled to cope with the addition of new cameras. The organization can take advantage of
the benefits that come from multiple applications (such as CCTV) being converged onto a single, unified network.

Deliver video to multiple receivers simultaneously
IP data streams can deliver video to multiple devices at the same time. This enables redundant storage of video.
There is no limit to the number and locations of recording and monitoring devices
Multicast communication enables efficient image distribution to multiple devices.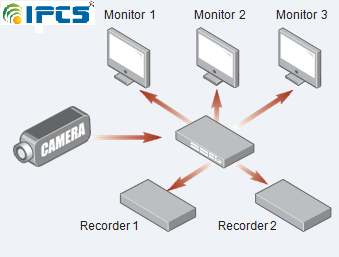 The Scope of IP Cameras
I
As IP networks become increasingly prevalent, IP cameras are replacing analog cameras and being deployed into new places for new uses. Powerful, specialized software applications are enabling IP cameras to improve security, and perform continuous monitoring with automated efficiency.
In addition, value is being added through marketing and increased customer service. The ways that people can interact with the surveillance system are diversifying, with the ability to connect via web portals and mobile devices.
Office buildings:

One aspect of the broadening use of IP cameras is the deployment for building management purposes. This application poses some challenges in terms of integration with existing networks, and cost-effective network construction.
The following "Before Installation" and "After Installation" diagrams illustrate best practices to follow when integrating video surveillance into an existing network. Taking advantage of IP cameras and following these integration practices enables a surveillance system to be added to an office building quickly and efficiently.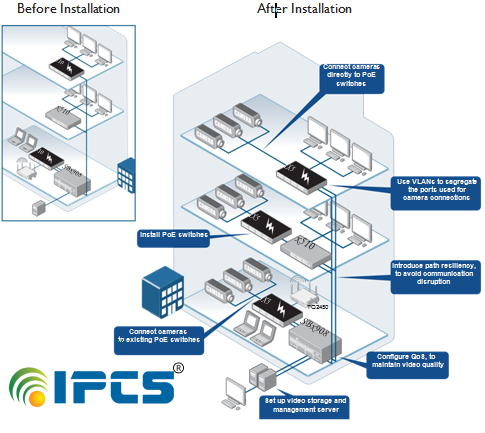 Shopping Mall/Shopping Center
IP cameras in each zone can perform integrated surveillance. The need for security guard patrols is thereby reduced, while security and safety are enhanced. Facial recognition software is effective in the identification of suspicious individuals and shoplifters.
IP cameras can deliver video to screens to display live events, promotional announcements and messages that will catch customers' attention.

Chain Store/Parking
Integrated surveillance is an ideal security solution for parking areas and for stores with multiple locations. The high definition images provide a clear advantage, because large areas can be covered with fewer cameras. Software applications enable automatic detection of suspicious events. Intruder alerts can be raised automatically, working in parallel with other crime-prevention systems.
Pan, Tilt and Zoom (PTZ) camera control is operated remotely, enabling thorough surveillance coverage from a central location.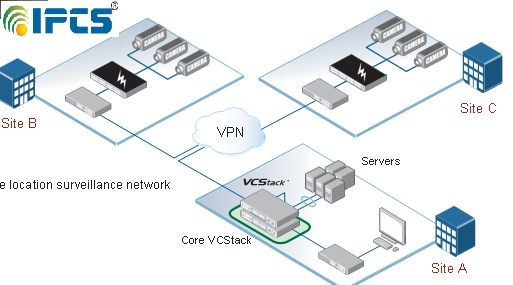 Hospital
Opportunities for crime are significantly reduced by installing cameras to monitor entrances, elevators, parking areas, etc. The surveillance can be used in conjunction with ID authentication to control access to restricted areas.
Surveillance can be used to monitor the welfare of patients waiting for treatment and also for staff safety.
The camera network uses resilient pairs of links from an Allied Telesis Virtual Chassis Stack™ (VCStack) in the core to the distribution switches. This enables the network to continue operating, even if links or switches go down. In the security control center, the surveillance monitors receive video feed from each camera, enabling security guards to maintain real-time surveillance of the entire hospital. Cameras help prevent crime for the hospital by monitoring all entrances, exits, and elevator doors. It is important to install cameras in positions that do not have blind spots.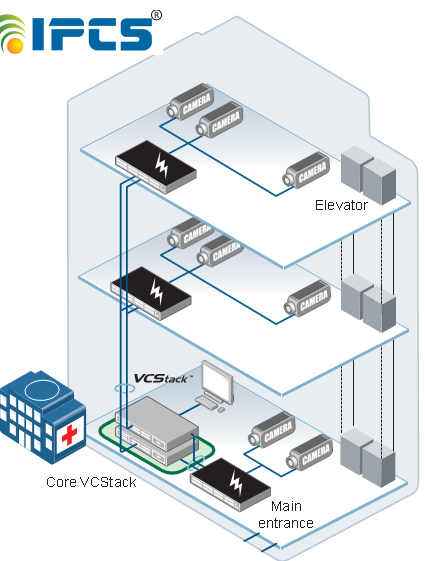 Railway/Superhighway:
IP cameras can be connected into the network infrastructure that already exists along railways. The cameras can provide surveillance throughout stations, in unmanned stations, in electrical substations, and more.
Alarms can be raised when passengers are seen entering restricted areas. The networks along railways and highways cover long distances and are well suited to a ring topology. Using a ring design reduces the amount of cabling and switching equipment required.
IP surveillance supports crime prevention by placing cameras throughout stations. This provides a safety and security service to passengers. Cameras are installed at points along the railroad to remotely monitor signals and check track settings at junctions.
These cameras also help prevent vandalism and theft crimes, and can provide an early warning of fires. In areas where onsite security surveillance is difficult, such as at unmanned stations, the installation of IP cameras enables remote monitoring. Installed screens display the images being fed from the IP cameras, and perform real-time surveillance using human eyes.

Allied Telesis solutions are customized to suit the specific needs of each installation
Allied Telesis is an equipment vendor and networking specialist that provides highly reliable networks, and Allied Telesis IP surveillance solutions have been deployed globally. Allied Telesis creates solutions that satisfy customer requirements, and focuses on expanding these solutions to more locations and a broader range of applications. The following are some high profile IP surveillance network success stories
success story / Bangkok metropolitian administration
Bangkok the capital of thailand with a population of nine million is a truly international city within this fast developing asian region.The bangkok metropolitan administration has overall jurisdiction for administration and public infrastructure in the municipal area which is comprised of 50 separate local authorities

Building a surveillance system in Roppongi Hills
Video surveillance is an essential component of the safety and security system of Roppongi Hills, the largest self-contained urban community in Japan. Mori Tower, the 54-story centerpiece of Roppongi Hills, is secured with about 600 surveillance cameras, transmitting video feeds over a dedicated Gigabit network. Uninterrupted transmission of high definition surveillance video 24/7 requires a high-bandwidth, high-reliability network, but at a reasonable cost.
Products shown in the diagram are only representative and may differ from those actually used.
Security camera network in the streets
* Products shown in the diagram are representative and may differ from those actually used.
The Ichikawa City Municipality in Japan set a high priority on creating a safe and secure urban environment. It also has a drive to enhance administration services by utilizing Information and Communication Technologies (ICT). The municipal administration installed 500 security cameras throughout the city to help prevent crime, and reverse the citizens' perception of deteriorating safety.
An Allied Telesis VPN solution is used to connect remote cameras to the central video servers.