SMART TRANSMITTER
A microprocessor-based transmitter which includes a signal processing system is called a smart transmitter. An extra inbuilt sensor present in the smart transmitter. Using this sensor we can compensate environmental disturbances by to measuring the atmospheric parameter.

Smart transmitters often incorporate multiple sensors covering different measurement ranges and allow automatic selection of the required range. The range can be readily altered if initially estimated incorrectly. The smart transmitter can adjust for non- linearity's to produce a linear output. it is capable for self-calibration that allows removal of zero drift and sensitivity drift errors when smart transmitters are used, requirements for maintenance reported by self-diagnostic capability of the system apply mathematical modeling techniques to the sensor and plant in which it is working is the best theoretical approach, with the aim of detecting inconsistencies in data from the sensor. it is not used widely as it is a little expensive by using smart transmitters we can improve the accuracy and repeatability of the system using the system long-term stability was improved and required recalibration frequency is reduced needs only single penetration into the measured process rather than the multiple penetration required by discrete devices, making installation easier and cheaper also allowing remote recalibration or re-ranging by sending a digital signal to them it helps to reduce number of spare instruments required, since one spare transmitter can be configured to cover any range and so replace any faulty transmitter. A smart transmitter has the ability to store the last calibration date and indicate when the next calibration is required. Ability to store data so that plant and instrument performance can be analyzed through implementing smart transmitter we can reduce maintenance cost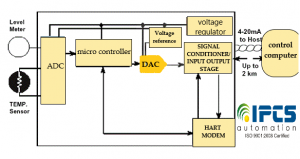 About IPCS
IPCS Automation is one of the leading Automation training Course provider in Kerala and out side Keral they giving excellent training classes for the students. They also running Automation Course in Chennai that way students can easily reach the training center that way they can easily explore the job opportunity. IPCS Automation is ISO Certified training compony.