Pyroelectric Based Solar and Wind Energy Harvesting System
Energy harvesting technology allows the use of ambient energy such as solar, wind, thermal, strain and kinetic, the energy of gas and liquid flows which is then converted into another form of usable energy.P pyroelectric materials when subjected temperature variation generates a voltage. In the thermal energy harvesting domain, the Inherent scarcity of thermal sources with a time-varying temperature profile is the reason why the pyroelectric based energy harvesting is not that prominent as thermoelectric generators.

Pyro Electricity
Pyroelectricity is the ability of a certain class of materials to generate an electric charge when heated or cooled. The reason is associated with the change in polarization. The variations in temperature even if it is in a slight manner, it can modify the position of the atoms within the crystal structure. Across the material, the change in polarization creates a voltage that can be used as a thermal-electric converter. The pyroelectric materials convert most of electromagnetic radiations spectrum which includes ultraviolet, infrared, microwave, X-rays, terahertz energy into electrical energy. Thus, pyroelectric elements are mainly used in uncooled wideband infrared detectors included in numerous scientific and medical instruments.
The thermophysical and electrical properties have the greatest influence on the behavior of pyroelectric material.  High-performance pyroelectrics are used for infrared detecting and imaging devices. They are in single- and poly-crystalline and composite forms. Triglycine sulfate (TGS) family, lithium tantalate (LT), modified lead zirconate tantalate (PZT), poly (vinylidene fluoride-trifluoroethylene) (P(VDF-TrFE)): PZT, barium strontium titanate (BST), polyvinylidene fluoride (PVDF) and its copolymers are the major candidates.
Given the inexorable quest by the electronics engineers to shrink the size of electronic circuits, the density and speed of the integrated circuits have seen an exponential increase, in the pursuit of reaching Moore's law limits. This has paved many ways to develop devices that can convert ambient energy sources into useful electrical form in order to make the electronic devices become self-powered and maintenance-free. Solar and wind energy are the main known in terms of renewable, sustainable, and clean energy. Solar energy can be harvested by solar thermal power plants or by solar thermoelectric generators or by photovoltaic.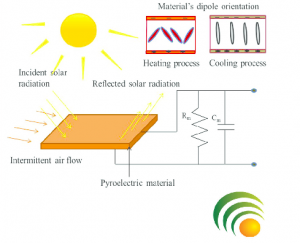 The solar thermoelectric generators or by photovoltaic possess an advantage over the solar thermal power plants as they provide direct electrical output and they are suitable for small-scale installations. The solar thermoelectric generators make use of the See beck effect to generate a voltage from a spatial thermal gradient. Instead, the temporal changes of thermal energy can be captured by means of pyroelectricity. The existence of spontaneous polarization, which is a permanent electric dipole moment with a specific crystal axis, is the basic constraint for material to exhibit pyroelectricity.
It is the vulnerability of this spontaneous polarization to thermal changes which leads to charge redistribution on the surface of the material resulting in a current flow in an external circuit and thus creating a physical phenomenon called pyroelectricity. Recently, Zhang et al. demonstrated that the pyroelectric material PZT, when placed in solar radiation, can produce energy by exploiting the natural fluctuations in solar radiation intensity and the fluctuations created by the wind.
Since the natural fluctuations of solar radiation are too slow and very small to produce rapid changes in temperature, obviously the harvested energy by these principles is also very low. New solar energy harvesting system through pyroelectricity does not require any external means to generate thermal fluctuations other than wind energy. This is because here it employs an optical concentration system to produce large thermal oscillations.