Relay Outputs
The relay outputs are one of the most common types of PLC outputs. Relay type output makes
connection with external devices easier. These can be used with both AC and DC loads and are
normally used to handle moderate loads up to about two amps or when a very low resistance is
required. If we need to switch AC voltages such as 24VAC, 110VAC or higher, we need to select
a PLC with RELAY output.
At the point when the ladder diagram tells the output to turn on, the plc will internally apply a
voltage to the relay coil. This voltage will enable the relay contact to actuate. At the point when
the contact shuts, an external current is permitted to flow through external load. When the
ladder diagram advises the plc to shut/turn off the output, it will just expel the voltage from the
inside circuit accordingly enabling the output contact to release.
Output polarity of relay type output can be positive or negative depending on the
wiringconfiguration. Let we consider the positive common. When the relay contact activated
current will enter the common and exit through plc port. These makes output positive. If our
common is negative then the current will enter the plc port and exit through common port.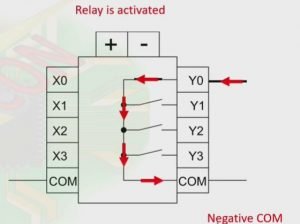 Transistor outputs
Transistor type outputs can handles small to medium amount of current. A transistor cannot
switch large loads as a relay. Most transistor outputs in PLC range can only handle either 12VDC
or 24VDCDC current. If the load current is higher than the transistor output specification, wecan
connect the plc output to an external relay then connect the relay to the large load.
There are two different types of transistor outputs.Theydescribed as sourcing (PNP) and sinking
(NPN). Output polarity of sinking is always negative. Here common terminal connected to
negative. When the transistor activated, current will enter collector and exit through emitter. In
case of sourcing the output, polarity is positive and common terminal connected to positive.
When the transistor activated, current will enter common then to emitter and exit through
collector
A transistor is fast, handles small current, has a long lifetime and works with dc only. A relay is
slow. It can switch a large current, has a shorter lifetime and works with ac or dc.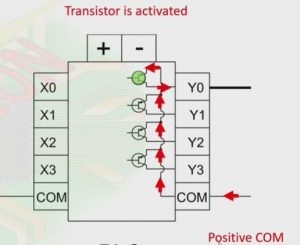 Sourcing(PNP)                                                  Sinking(NPN)