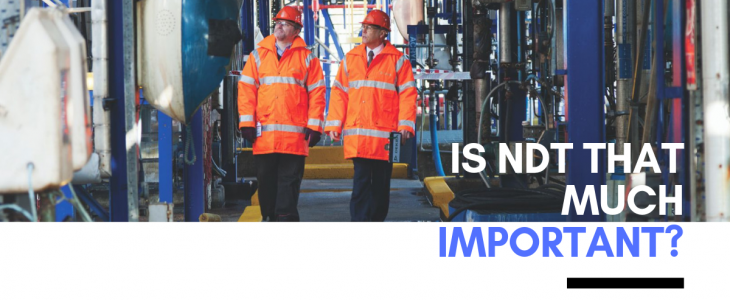 Introduction
Each and every one in the world surely go for quality. So there is no use of raising such questions. The reputation of every brand is based on the quality of their product. So, in every industry there is an experienced wing for quality management team.  The Quality will only get measured by means of testing. NDT is one of the most important and regular testing methods to visualize the defects of a product for further rectification. Here comes the importance of NDT courses. Non-Destructive Testing is one of the important portions of quality Assurance. As much as the number of companies increases that much is the requirement of the Quality Specialist and NDT Specialist. Even though in a small firm the QA/QC department is mandatory.
Scope of NDT in industries
NDT is one of the oldest techniques with advanced integration of highly precise technologies. So, experience and precise knowledge in this sector will enhance the skill level of engineers and they will get placed in reputed company without any doubt. Experience and knowledge in NDT should be gained in detail by taking a training in a reputed training center. NDT it generally consists of five main techniques each technique has level II and level III certification. This certification is mandatory for a company to hire the graduate.
So, NDT courses are hopeful area that one can prefer for your better future.
Non Destructive testing
NDT is an analysis technique used in industry to evaluate the defects and properties of a material, component, system or a product without causing any damage. NDT is really an important practice because we can easily recognize the defect that we will never get in noticed due to the covering layer of paint or some other coating. The techniques used in NDT can easily determine the defects that one can never identify with his naked eye
The five most frequently used NDT methods are:
Visual Testing

Magnetic Particle Testing

Liquid Penetrant Testing

Ultrasonic Testing

Radiographic Testing
1.Visual Testing
Visual inspection is an evaluation of components by means of human sensory organs only by the  aid of mechanical enhancement devices such as magnifiers, lenses, stethoscopes etc. The inspection process may be done using such behaviors as looking, listening, feeling, smelling, shaking, and twisting.
2.Magnetic Particle Testing
A ferromagnetic test specimen is magnetizing by applying a strong magnetic field generated by a magnet. If a flaw is present, the magnetic field through the specimen get interrupted and a leakage field will occur. This leakage will hold the iron particle and thus the defect is identified.
3.Liquid Penetrant Testing
This testing method is used to find surface defects of an object by applying some immigrants like cleaner, penetrants, developers etc. By the application of these immigrant the flaws will bleed out and provide an excellent indication of surface defect.
4.Ultrasonic Testing
UT is based on the propagation of ultrasonic waves in the object or material tested. Ultrasonic pulse-waves with center frequencies are transmitted into materials to detect internal flaws,  dimension and to characterize materials.
5.Radiographic Testing
Placing the test specimen between the radiation source  and a piece of film. When the radiation is applied, the part will stop some radiation according to the thickness. The penetrated radiation will excite the film and generate the pattern of the defect.
IPCS Automation is one of the best NDT Course providers in Trivandrum, Kerala. We Providing NDT Training in Trivandrum with experienced Faculties. More Details: NDT course in Trivandrum