Are you ready to study any one of this?
Then let's have a comparison between each and understand the difference. Brief explanations of each are here to identify your taste of focus. Actually, both are testing but they are extremely different in all aspects.
Non-destructive Testing
Non-destructive testing is generally used to find out the defect in a material. While testing no load is applied on the material to get it destructed. The assistance of more specialized equipment is not required for NDT. Proper and precise cleaning is important for testing the specimen. Improper surface cleaning of the material also leads to false indication and this will decrease the accuracy of the material. It is cost-effective and material effective than destructive testing. The main destructive testing techniques are Visual Testing, Liquid Penetrant Testing, Magnetic Particle Testing Radio graphic Testing, Ultrasonic Testing, etc.
Destructive Testing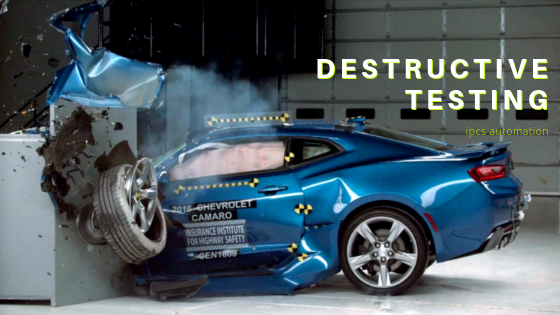 Destructive testing is a better method to find the property of a material. Many types of load tests carried out to calculate the strength of a material or a product. By the influence of load, the material gets damaged, so-called Destructive testing. At the end of the testing, we are destroying the test piece and it can't use for further process. Many requirements and backups are needed to carry out destructive testing effectively. An uneconomical, as well as material loss, is there to suffer to get a test accomplished. Some of the main examples of such destruction test are a tensile test, compression test, hardness test, etc
Hardness Test
Hardness is a mechanical property ie, the resistance of a material to surface penetration. The test is done by an Indenter. The indenter is generally made up of hardened diamond or steel. The hardness test includes:
Rockwell Hardness Test
Brinell Hardness Test
Scleroscope
Vickers Hardness Test
Rebound Test
Tukon-Knoop Test
Tensile Test
Apply tensile force (pulling) to either side of the material and measure the specimen response to the stress
Compression Test
It is the test in which a material exerts an opposing force while pushing inwards upon the specimen from the opposite side. The compression test is to determine the response of a material while it experiences a compressive load by measuring strain, stress, and deformation.
Joining us will make you understand the differences in both concepts theoretically and practically. We IPCS Automation will provide you a deep practical industrial experience of NDT within a limited period of time