Smart CCTV is a type of CCTV that builds knowledge in the form of testable explanation and prediction
about the movement and actions of human by a set of algorithms that computer used to perform some
operations; by this, we can reduce crimes and anti-social behaviors.
IoT or Internet of Things is an expansion for internet connectivity in electronic devices. It is embedded
with internet connectivity and other hardware; these devices can communicate and interact with others
over the internet and this can be remotely controlled and monitored.
How IoT works
An IoT system consists of web-enabled Smart devices it uses microprocessors and sensors and
hardware for communication for collection and sending data acquired from the environment. IOT
devices sent share data by connecting to an IoT gateway where data is either sent to cloud for analyzing
or analyzed it locally. The device does its work without human intervention.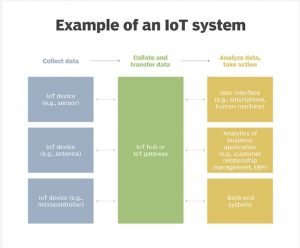 The coming of smart gadgets alongside IoT has cleared route for two ways of thinking. One that firmly
contradicts the incorporations of the web into savvy gadgets; and the other that considers this to be as a
characteristic mechanical development way that can be advantageous for the two customers and
enterprises alike.
Why IoT Works best with smart CCTV?
Although Smart CCTV and IoT appear somewhat unsafe and intrusive, if implanted correctly it can
reduce cost, ensure security and convenience to the customer. The combination of IoT and smart
camera beats the traditional camera as it allows users to store and create the backup in the cloud, which
makes easy to view the live videos or recordings from anywhere the in world. Moreover, there is no
need for more employees for monitoring camera. The smart camera can monitor an area and it can live
stream the video to a specific person without human intervention.
Benefits of IoT based Smart CCTV
 Long term control:
Advantage of using IoT based Smart camera is that it allows a huge downturn in the measurement of
time that we spend attempting to control and deal with our security frameworks.
 Smart identification:
IoT based smart CCTV would allow smart and simple integration with other systems. For example
facial recognition system, by this we can quickly identify potential dangers to the society.
 Analysis made easy:
Instead of reviewing video hours after the incident is takes place the smart CCTV would give live
feed. In allowing we could possibly eliminate the hazard present to the people.
Conclusion
IoT based CCTV system is designed in such a way that it can fulfill the user needs for specific
surveillance areas. It can be used different environment and many applications. The user can view the
video from remote places using internet and WIFI connection.