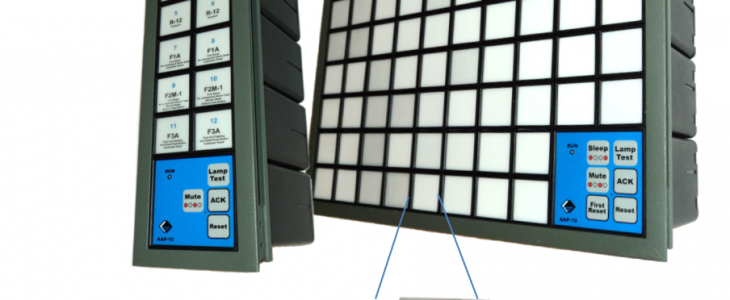 An Annunciator panel also called Alarm Annunciators Panels or Centralized Warning Panel (CWP) or Caution Advisory Panel (CAP). These include a set of lights arranged in rows and columns which is then used as a central place to indicate the status of equipment in Industries, Control Systems, Fire Alarms and even in Air Crafts central Consoles. The annunciator panel will usually include a warning lamp for each alarm with or without an audible signal to notify the operator to check for abnormal or dangerous events in case it happens.
Places where Annunciator Panels are used,
Aviation Industry
Automation Industry or Process Control Industry
Fire Alarm Systems
Aviation Industry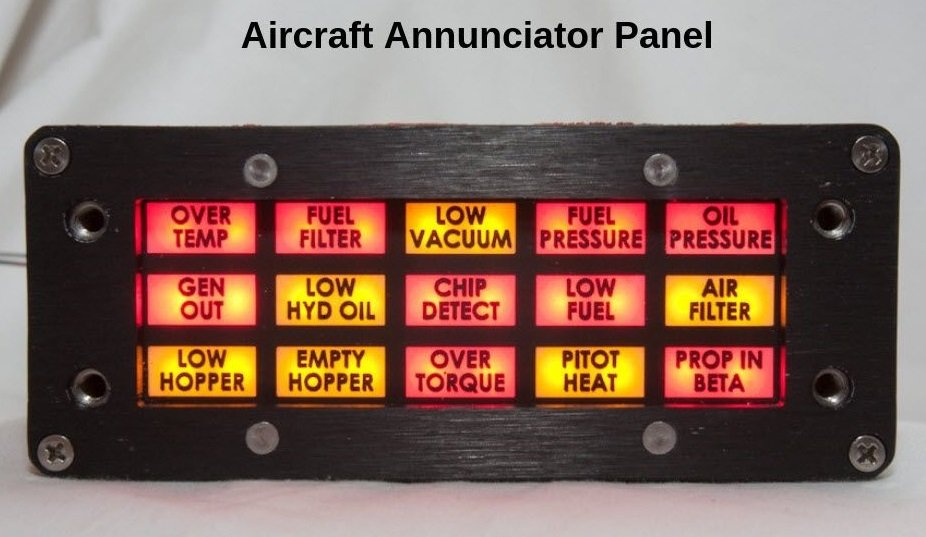 In the aviation industry, annunciator panels are a group of annunciator lights that can indicate the status of the aircraft's sub-systems. The lights are usually with a test switch, which when pressed illuminates all the lights to confirm that they are working. More advanced modern aircraft systems replace these with the integrated electronic Engine Indicating(EEI) and Crew Alerting System(CAS) or Electronic Centralised Aircraft Monitor(ECAM).
An aviation or aircraft annunciator panel will have a test switch to check for burned out or faulty lamps. Indicator lights are then grouped together by their associated systems into various panels of lights.
Lamp colors are normally given in the following meanings:
Red: Warning, the systems condition is critical and requires immediate attention (such as an engine fire, hydraulic pump failure, so on)
Amber: Caution, the system requires timely attention or may need to do so in the future (ice detected, fuel imbalance)
Green: Advisory/Indication, a system is in use or ready for operation (such as landing gear down and locked, APU operating, all systems good)
White/blue: Advisory/Indication, a system is in use (seatbelt signs on, anti-ice system in-use)
Automation Industry or Process Control Industry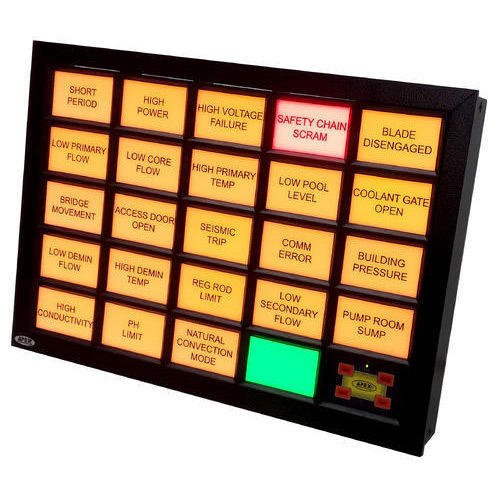 In industrial process control systems, an annunciator panel is a system used to alert operators of alarm conditions in the plant. Multiple rows and columns of back-lit windows are provided, each showing the name of a process alarm. Lamps in each window are controlled by hard-wired switches or from equipment installed in the plant, arranged to operate when a process condition enters an abnormal or dangerous state (such as high temperature, high pressure, low pressure, loss of cooling water flow).
In any one common alarm sequence, the light in a window will blink and a bell or horn or a hooter will sound to attract the operator's attention when the alarm condition or anomaly is detected. The operator can silence the alarm with an acknowledgment button, and the window will remain lit as long as the process is in the alarm state. When the alarm clears, the lamps in the window switches off.
Alarm Annunciator panels were relatively costly to install in a plant because they need dedicated wiring to the alarm initiating devices in the process plant or machinery. A lamp test button is always provided to allow early detection of failed lamps or indicators. Modern electronic distributed control systems require less wiring since the process signals can be monitored within the control system in the control panel or control room, and the engraved windows are replaced by alphanumeric displays on computer monitors such as SCADA and HMI screens.
Fire Alarm Systems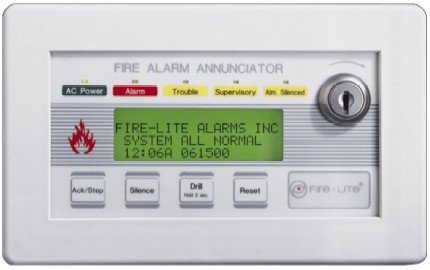 In large buildings or establishments, a central fire alarm annunciator panel is located where it is accessible to fire-fighting crews in case of a fire. The annunciator panel will indicate the zone(place of fire)and approximate physical location of the source of a fire alarm in the building. The Fire Alarm annunciator will also include lamps and audible warning devices to indicate failures of alarm circuits. In a large establishment such as an office tower or hotel, the fire annunciator may also be associated with a control panel for building ventilation systems, and other fire prevention systems and may also include emergency communication systems for the building.