Manufacturers have driven continuous improvement and quality management programs in manufacturing industries. This includes lean, six sigma or Overall equipment effectiveness(OEE) methodologies. Lean manufacturing results in a net improvement in total productivity. It is a series of methods designed to minimize the waste of material and labor while maintaining or increasing levels of production. Six Sigma manufacturing was originally developed as a kind of quality control for large scale manufacturing companies. The main purpose is to improve the manufacturing processes along with eliminating the number of defects found in them. This methodology is now extended to other types of industries all over the world. OEE (Overall Equipment Effectiveness) is the gold standard that can identify the percentage of manufacturing time that is truly productive. This means if you are manufacturing only Good Parts, as fast as possible, with no Stop Time then your OEE score will be 100%.
Industry 4.0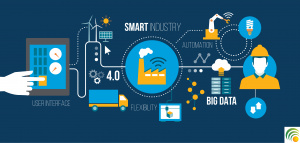 Industry 4.0 represents the fourth industrial revolution. Computers were introduced in Industry 3.0. It is true to say that Industry 4.0 actually optimizes the computerization of Industry 3.0. That means the fourth industrial revolution takes what was started in the third. Digitization, automation, and data collection are the three key principles of Industry 4.0. On the other hand cyber-physical systems, the Internet of Things and the Internet of Systems are the three that make the smart factory possible. In addition, enhances it with smart and autonomous systems fueled by data and machine learning. Furthermore, Industry 4.0 offers the opportunity for manufacturers to optimize their operations fast. Same time efficiently by knowing where to pay attention. Thus can increase their yield.  Most importantly, the key component of Industry 4.0 is the Internet of Things(IoT). It is the network of connected devices utilizing the cloud environment.
Digital transformation
A new wave of approaches driven by Industry 4.0 technologies offers unparalleled improvement opportunities. In fact, digital transformation is the profound transformation of business and organizational activities, moving to a digital business. Here digital technologies help to change a business model. It can provide new revenue and value-producing opportunities. Automated workflow, decision support, mobility, workforce upskilling and change management are the five core competencies of a digitally mature organization. These serve as a key to utilize the technology available fully. Automated workflows and decision support are industry 4.0 technologies. They offer manufacturers a new way to solve quality control and operational uptime. As far as a digitally mature organization is concerned, more data flows in from different systems and devices. All in all, manufacturers can do well to couple automated workflows to orchestrate people, systems, machines and processes. Thus possible for them to take smart action from this data.
The five core competencies of a digitally mature organization are described below:
Automated workflow
Many manufacturers run their production work orders, preventive control plan or raw material workflows by compiling information from various systems. These include manufacturing execution system (MES), warehouse management system (WMS). A number of other information sources and formats such as Excel spreadsheets also include in this category. Whereas a  digitally mature manufacturer uses automated workflows to orchestrate different systems, people and machines to run the show. Workflow orchestration can be described with an orchestra conductor as an example. He or she doesn't play an instrument but instead instructs dozens of people to play their instruments at once.
Decision support
Automated decision support and Expert third-party decision support are the two types of decision support that digitally transformed organizations usually take. In automated decision support, decision support is embedded in the workflow. So decisions can be made in an automated fashion. The workflow contains a decision matrix. It is able to make decisions based on data. It can decide the actions it should take and knows where human intervention needed.  Expert third-party decision support comes in various forms. It is usually a third party, maybe an external consultant working on a project or maybe a remote expert who can access your data when required to lend advice.
Mobile and remote accessibility
This step mainly deals with the interaction between co-workers. Mainly, how you and your staff interact with physical and IT/software systems to carry out your work. Mobile technologies are being increasingly integrated OEE systems, paperless quality management systems and maintenance management systems. Thus connects the co-workers. This capability allows people to move freely around the factory floor and can focus on other core tasks. Remote accessibility helps managers review the manufacturing quality metrics remotely. That means connecting remotely to your system to see what you see and resolve faults, in real time.
Workforce  Upskilling
In the manufacturing industry, workforce training and change management are important considering the digital transformation initiative. Considering those in managerial level, their skill lies in refocusing their managing efforts deeply towards their workforce including workflow also. In order to optimize workflows, managers should be skilled in data analysis and decision making.  Upskilling operators in the areas of continuous improvement, preventive maintenance is a real challenge. Rather than just one machine, they should know how the line operates.
 

Effective change management
Effective change management involves seeking input from people who will ultimately be running new technologies or processes. They will have the best ideas. Their uptake of the change will either make or break the project.