SUPERCONDUCTOR AND FAULT CURRENT CONTROLLING
Rapidly increasing power demand increased the investment in power generation facilities. DG Units and Micro grids as a developing technology attracted much attention to meet the growing power demand.
Microgrids
Contains any combination of small DG (Distributed Generator) units which supports a single service and manages generation, storage and distribution internally. Micro grids are developed to supply local small scale loads. Easier integration of alternative energy sources, increased reliability as well as increased efficiency with reduced transmission length is a notable feature.The increase in penetration level of DG units leads to
     Bidirectional power flow

     Excessive short circuit level

    Re closing issues

      Protective coordination issues
As different amount of fault current flows in grids, the grid topology changes. Excessive fault current levels lead to increased cut off ratings of related power devices, blackouts and finally loss of stability occurs. Fault current limiters can be used to limit and control fault current. New Concept introduced to limit SC current in electrical power circuits. FCC for smart grid applications was introduced. Korean Electric Power Corporation introduced SFCC.
A HYBRID SUPERCONDUCTING FAULT CURRENT CONTROLLER
KEPCO's new-hybrid SFCC satisfied all test requirements and now in use. An effective solution to reduce and control excessive fault current, using unique quench characteristics of superconductor. High-temperature superconductor element were used to make SFCL. Moreover these  Resistive SFCLs are invisible, gives no harmful effect during normal operation of grid. During fault, transition from superconducting to normal state offers optimum impedance to electrical network instantaneously which limits fault current fast and effective.
PROPOSED HYBRID-SFCC SCHEME
High temperature superconducting element (HTS)- used for fault current sensing and quenching

BSCCO tube and tape, YBCO thin films, YBCO Coated conductors.

A driving coil-to generates an electromagnetic repulsion force.

Short contactor

Current limiting resistor(CLR)- to limit the fault current

Thyristors & diodes

Also contains a cryogenic system contains liquid nitrogen or liquid helium for cooling purpose on the high temperature superconductor.
WORKING  Described using 3 major modules :
Module :1 :- Fault current sensing & commutation
Module :2 :- fault current limiting and controlling
Module: 3 :- fault current bypassing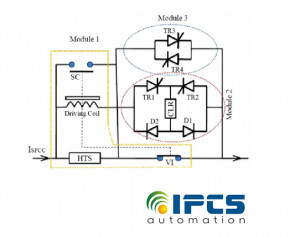 FAULT CURRENT SENSING AND COMMUTATION
This module consist of HTS element and a fast switch . Super conductor will quench immediately after fault current initiation . Whereas the fault current commutated to driving coil to generate  an electromagnetic repulsion force . This force closes SC  and VI,  which is mechanically coupled to SC opens
FAULT CURRENT LIMITING AND CONTROLLING
Here is the solid state technology , which employed  to limit the fault current level. It consist of a half controlled bridge rectifier with a CLR . CLR limits the fault current to a specific level . Thyristor firing angles are selected between 0 degree and 180 degree  for further control of fault current.
FAULT CURRENT BYPASSING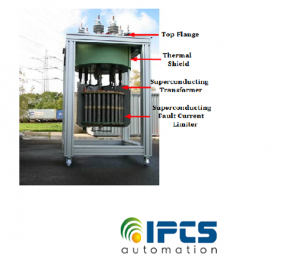 This module consist of two thyristors  which is connected anti -parallel . Firing angles are set at zero degree .Hybrid SFCC utilizes this module when the fault current is small & need not be limitted.