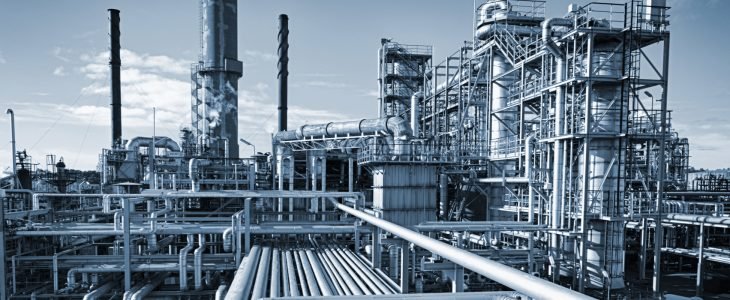 Pipeline   –    series of large diameter pipes laid underground with few fittings & equipments like pumps & valves to transport any fluid whether liquid or gas over a long distance is termed as a pipeline. 
Piping     –     large series and network of pipes with all fittings and equipments like pumps, valves structured in a well-defined boundary of the plant to transport the fluids within those boundaries 
Pipeline 
Piping 

Number of straight pipes welded together for a long distance

Complex network of pipes and fittings joined together in a defined boundaries of a plant

Inter-country

/

inter-state

  transportation of fluid

Transportation of fluid with in plant

Constructed underground, above ground, under water such as

subsea

pipeline etc.

Only few underground service. Almost of the pipings are above ground construction

Large diameter pipes are used for transporting fluids

Diameter

is limited from ½" to 80" in diameter

Application of pipe fittings are limited

A wide range and variety pipe fitting are used

Equipments usage is limited in pipeline systems

A wide variety of fittings are used in piping systems
Piping system
         Assembling various components together with proper joining method, functionally to transport fluid from its source to destination. The piping components are designed withstanding the operating condition specified in process parameters. The components that can be used a piping system are specified in the piping specification
The main piping components used in a piping system are
Pipe

Pipe fittings

Flanges

Gaskets

Bolting

Valves

Branch fittings 

Blends. etc.
Use of equipments in piping and pipeline system
          Within the pipeline, utilize of pipe fittings is restricted. Generally, long radius bends with exceptionally few other sorts of fittings that utilize at a pumping station and valve station. Though within the case of piping exceptionally wide extent of pipe fittings are utilized that server distinctive reason inside the piping system such as direction, size, branching, blinding, etc. Similarly, in pipeline few types of equipment are utilized inside the Pipeline system such as pumps, valves & instruments to transport liquid securely over a long separation. While a variety of equipments such as a pump, valves, filter vessel, column, heat exchanger, instruments are utilized inside the piping system that bolsters the work of the plant to deliver the finished product.
Role of a piping/pipeline engineer in construction
            A piping building engineer plan the schedule of piping works, assists with material procurement, oversees installations and maintenance operations and supervises expression staff. To become one, you typically need to earn a bachelor's grade in mechanical, structural or civil engineering, fulfill licensing requisite and have excellent teamwork, decision-making, and communication acquirement. A piping construction engineer often reports to a construction manager and can secure employment in the natural gas pedal, mining and construction industries.