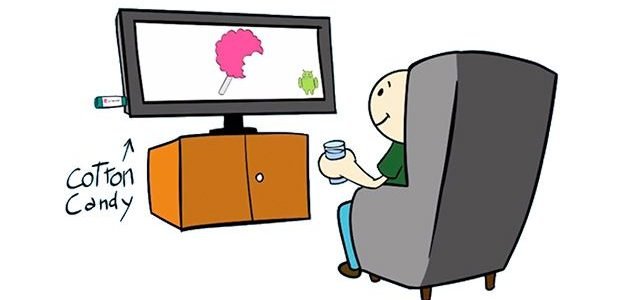 FXI technologies were founded in 2006 but have ceased operations since then, this page will serve as an archive/reference of all products and technology that they represented and built. FXI Technologies was offering the world's first any screen microcomputer – a single hardware/software cross-platform that offers the same graphics performance and feature set per pixel as in higher-end devices (like the PS3).
Their first device, called the C stick: Cotton Candy, has been well received in the market as the pioneer in a new category of thumb-sized computers also called micro or minicomputers or PCs on a stick. FXI reference designs were based on open source and offer device OEMs and mobile application developers a variety of rich opportunities to develop products that defy the limits of screen size and walled-garden ecosystems. Consumers and enterprises benefited from the unprecedented portability, security and computing flexibility of any screen microcomputer.
What was Cotton Candy?
Cotton Candy is the first generation, any screen microcomputer from FXI Technologies' line of C stick device platforms.
It is a USB stick sized computer that provides a single, secure point of access to a user's personal cloud services and apps through their favorite operating system while delivering a consistent experience on any screen. The device serves as a companion to smartphones, tablets, and notebook PCs and Macs, as well adds smart capabilities to existing displays, TVs, set-top boxes and other media that supports USB mass storage.
Cotton Candy packs the most computing performance into the smallest size and is the only microcomputer that can be used with laptop and PC screens as well as HDMI displays and TVs. It's patented any screen architecture combined with its Wi-Fi and Bluetooth capabilities and support for both open source Linux and Android operating systems, makes the device ideal for providing a completely uniform computing experience across the world of screens.
HD computing on any screen
Most computing power per cubic inch
Quad-Core ARM ® Mali™ 400MP GPU
Dual-core ARM ® Cortex ™ A9 1.2 GHz CPU
1 GB DRAM + Up to 64 GB local storage
Takes control of any USB or HDMI device
Interfaces with any USB/Bluetooth peripherals
Connects to the Internet via Wi-Fi
Supports all major operating systems and device environments
Patented any screen technology
Extremely low power
Patented security features
Mobile components, PC performance
Development platform: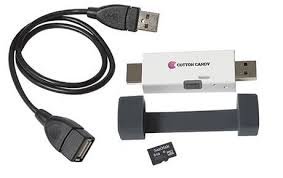 Benefits
Cotton Candy supports all major operating systems and device environments.
Familiar user interface across all screens improves productivity.
Affordable
Portable
Open source Android and Linux code (learn more Coding on CodersEye.com).
Leverage FXI kernel and OS drops.
Interact with Cstick technical forums and support.
JTAG and Serial Connector debug boards available.
Smart TV :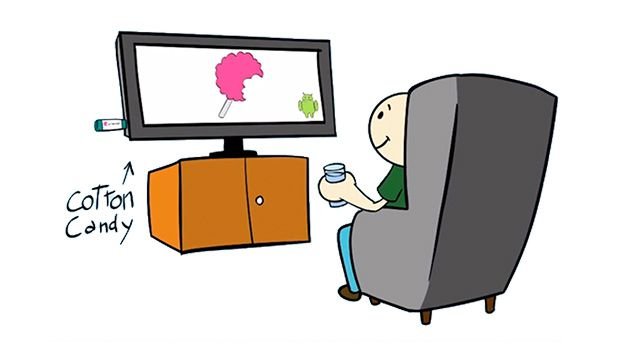 Customer
Subscribers of media services that need to be delivered via a standard Set Top Box
Challenge
Smart TVs integrate streaming video, digital video recordings and Internet content running complete operating system software. The only problem is that all those hot features come at a high price.
Solution
Keep your old TV, connect Cotton Candy with an HDMI TV, plug in a USB power cord to an electrical source, then manage your on-screen media with a SmartPhone, Bluetooth/WiFi mouse and keyboard, or a Remote Control.
Benefits for consumers
Access Cloud apps and documents, play games, surf the web, view photos, and HD video on the big screen with friends, colleagues, and family.
All your personal media can be shared and enjoyed on whatever screen is convenient wherever you go.
HD quality entertainment on any screen.
Carry it in your pocket or purse, lightweight, durable.
Maintain privacy when you want it.
Benefits for Service Providers
Branded Cotton Candy allows service providers to build an ecosystem around the device, this enables the subscriber to access the services from anywhere, potentially increasing service consumption and recurring revenue.
Sell a variety of accessories.
The great companion product to smartphones and tablets.
What defines the Cstick Platform?
Any Screen technology and a revolutionary form-factor enabling a wide range of new use cases. With the ability to go anywhere and make any computer, or indeed any screen, a thin client for your personal computer, and a secure access point to the cloud, the possibilities are virtually endless.
Processor
Cstick utilizes the best in high-end multi-core embedded CPUs in order to provide the heavy lifting required by PC-class applications and compatibility with an enormous software ecosystem.
Graphics
Market-leading GPU technology for acceleration of anything from advanced User Interfaces to console-class gaming and real-time digital signage, all in HD resolutions.
Connectivity
High-speed internet connectivity and standard interfaces for display, power, and communication are a crucial part of the ability to be anywhere and connect to anything at any time.
Any Screen IP
Other micro and minicomputers claim to bring smart technology to "dumb" screens, but the FXI Cstick: Cotton Candy is the only product designed to work with HDMI and USB interfaces. Translation, FXI's patented solutions allow for connecting and interfacing with the Cstick compute platform through standard file storage protocols from ANY SCREEN – including Mac, Linux or Windows laptops, monitors and TVs.
Run Android on your Mac or Linux on your Windows laptop, while maintaining the integrity of the content on each device. No matter what screen a Cotton Candy visits, it delivers a uniform, secure and completely private computing experience.
How it Works
There is complete separation between Cstick and whatever host environment and OS/computer it is connected to. The host computer simply becomes a thin client for Cstick making it perfect for virtualization of work and private computer environments, bring-your-own-device scenarios, and as a key or "gatekeeper" for secure cloud access.
Through the FXI Any Screen IP™, Cstick is able to utilize any resources present in the host, such as keyboards, mice/touchpads, display and audio output, and even the networking capabilities of the host computer if desired. Interact directly with Android on the device to debug apps, play games and more. No custom drivers are required meaning that no additional software installation or administrator access is required in order to connect a Windows / OSX / Linux computer to Cstick.
Any computer or other electronic devices that support file system access to removable storage can utilize the FXI Any Screen technology found in the C stick platform.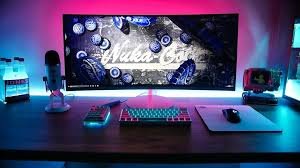 FXI's Cotton Candy could turn every screen you own into a cloud client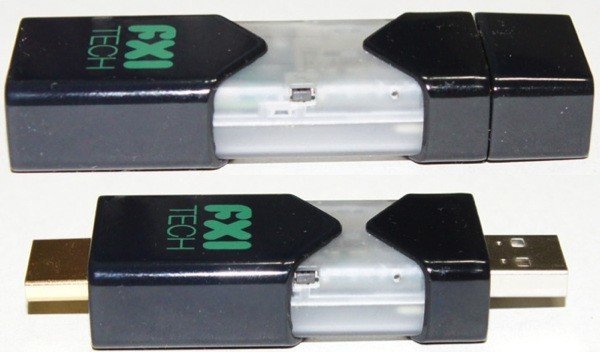 FXI's Cotton Candy plans to:
Provide consumer-friendly access to the Cloud.
Accelerate the adoption of "smart screens".
Extend the life of consumer hardware like laptops, monitors, TVs, set-top boxes, tablets and more by accessing the latest OS, software, and apps.
Create a single point of content storage.
Consolidation and organization of personal digital content.
Share media from mobile devices on large screens and projectors – videos, movies, photos, games and more.
Drive down the cost of computing, allowing more people to have a personal, secure computer.
"With the broad acceptance of Cloud computing and the advancement in processor technologies, the concept of a "screen-less PC" is a natural evolution in the form factor of computing devices," said Jon Peddie, president of Jon Peddie and Associates. "The connectivity, flexibility and multi-screen compatibility of FXI's Cotton Candy makes it like a computer built specifically for the Cloud."
About the Demonstration
FXI demonstrated Cotton Candy for the first time by connecting it via HDMI to a 42″ HDTV running Android and displaying YouTube videos and 3D games. Then, they switched to a word processing and spreadsheet application. Next, they unplugged Cotton Candy from the TV and connected it via USB to a Windows and then a Mac laptop to play Angry Birds on the Android OS.
"The laptop use case shows how with FXI's patent-protected Any Screen Virtualization Protocol, Cotton Candy can take over a host device's screen to display Internet-connected content," said Ljosland. "We believe these usage scenarios will be easily adopted by consumers and FXI's USB connected computing devices will make an ideal companion for the multitude of digital devices and screens people touch daily."
The implications of a connected companion device are broad and have yet to fully be discovered. "Imagine any screen being a window to your digital world," added Ljosland. The possibilities are endless."
Availability
Currently, FXI Tech is sampling prototypes to key OEM partners from the set-top box, memory, PC, mobile phone, appliance, in-car entertainment, and other industries.