We all know the security benefits of using CCTV cameras, but this technology has many other Features. One of the feature or specification is that we are going to discuss here is 'Face Recognition'. What is Face recognition? Facial recognition is software that is able to identify or verify someone by evaluating their facial patterns based on their facial contours. In recent years the use of CCTV surveillance has grown to an unexpected level, video surveillance becomes part of an everyday life hundreds of CCTV cameras has been placed in the public places such as Railway station airports, etc. Most of the CCTV systems are based on humans to physically monitor or evaluate the saved videos or live videos. An upcoming problem is that thousands of cameras are installed and it is impractical to hire that much manpower to monitor it. A smart camera can improve video surveillance by making self-controlled video surveillance possible. A smart camera can detect suspicious activities or faces and produce an alert, thus we can prevent unwanted event occurring and we can reduce the human effort thus reducing operating cost and increasing efficiency.
Face Detection
Face detection is the first step in all face processing systems this can influence the overall performance of recognition. The techniques used for face detection are feature-based, image-based and template matching. 
Feature-based technique attempt to utilize some knowledge of human facial characteristics and detect those features such as texture, edge, color, and motion.  Image or texture based technique used facial features such as eyebrows, lips, and pupils. 

The color-based technique is taken for different skin colors of humans. Several color models are an available but mostly used color model is the HSI color model. Motion information is the need for a face or head when video sequence is available.

Template matching is divided into two feature searching and face models. Feature searching detects prominent facial features like eyes, nose, mouth, then uses face geometry to know the existence of the face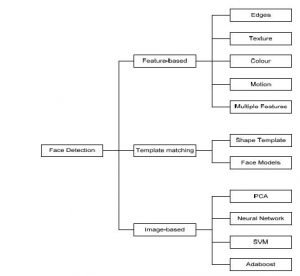 Fig: various face detection techniques
Smart camera for Face detection
       The camera contains a high-resolution CMOS sensor and FPGA based processor for Region of Interest extraction (ROI). The system has an internal processor for face detection to the images captured in real-time.

Fig: Basic smart camera architecture
                                                               Fig: Advanced Smart camera Architecture
Most of the smart cameras use VGA resolution image sensors. VGA is considered to be unsuitable for crowd surveillance.  Crowd Surveillance focuses on the wide area with many objects of interest, so that we require a high-resolution camera. High-resolution images provide detailed information on face recognition.
                 Fig: (a), ROI extracted from scene with resolution of 7MP (b), 5 MP(c), 3MP (d), 1MP (e) and VGA (f).
Future  Trends
Face recognition provides the data for a specific person. Identification can be improved when it is combined with face recognition, clothing appearance, and height. The main challenge of this is to build a low power smart camera with real-time face detection for crowd surveillance