What is BACnet?
BACnet is a data transferring protocol in building automation and control networks.
This protocol helps to computerize the building automation devices to communicate and
exchange information. BACnet was developed by the American Society of Heating, Refrigerating
and Air-Conditioning Engineers (ASHRAE). With the help of its open architecture and its ability
to control and monitor the automation process, BACnet meets the needs of the users.
BACnet uses object-oriented to make a representation of process and data within a
device and it provides standardized service to access the data within the device. It provides
more than one physical interface to adapt small, medium and large systems. In BACnet devices
from different manufacturers could operate with no additional integration. BACnet system
offers significant cost-saving methods like savings in resources, installation cost, maintenance
cost and energy savings.
Purpose of BACnet
BACnet is a standard data communication protocol used by different building
automation devices and systems. BACnet provides a path for many basic and complex
interoperations using some standard techniques. BACnet provides much range of networking
options it includes Ethernet or IP- centric and simple low cost twisted pair communication
called MS/TP. BACnet uses the object-oriented model for representing information.
With BACnet, motion sensors can be effectively used to measure human presence and activity,
i.e. infrared sensors are effective for sensing people but its cost is not justified in the lighting
control application. So that using BACnet it can be shared for security lighting and HVAC
systems. By this unnecessary sensors are eliminated and it is more effective and user-friendly.
With BACnet devices and their data can be shared.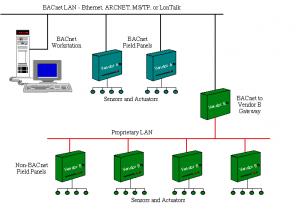 In the early days of BACnet, Ethernet was not used for building and industrial applications, at
that time many data/ physical layer used for the applications. To meet the needs BACnet was
designed with many physical and link layers include PTP, MS/TP, ARCNET, LON talk.