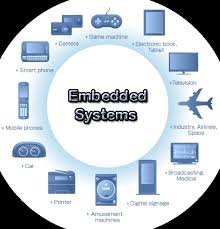 Embedded systems is a branch of engineering arise from a combined study of software and hardware. Both aspects come together to create a functional targeting device that possesses the advantages of adaptability, speed, accuracy, reliability, power, fidelity and smaller size. Embedded systems contains a wide demo of utility in the area of mobile communication, electronic payment solutions, railways, aeronautics, and automobiles. The key to utilizing embedded systems comes from making less severe real time calculation reserve which they can perform exceedingly well. Main applications of the global embedded systems can be concisely formulated as applications, microcontroller type, and functionality.
A large number of massively  powerful  trends for embedded systems can be seen in the fields of telecommunications, aerospace, defense, and healthcare. Each of these fields is making large usage of embedded systems for performing complex functions with high accuracy and reliability. The scope of embedded systems grows even further with the birth  of the Internet of things concept. The increasing need for smart electronics and connected devices across various fields in the world is giving rise to a high demand for efficient embedded systems.
Embedded System Training In Kochi is widely popular all over india and many students from all over the state does training there.Embedded System Training Institutes in Kochi delivers Specialization in embedded system and it will help them level up  their career for
Applications of Embedded Systems
Embedded systems can be classified in many ways. We have been surrounded with so many technogies now, right from waking up in morning to sleeping at night we are using so many systems, gadgets, devices ,equipment which are embedded  that control our day to day life.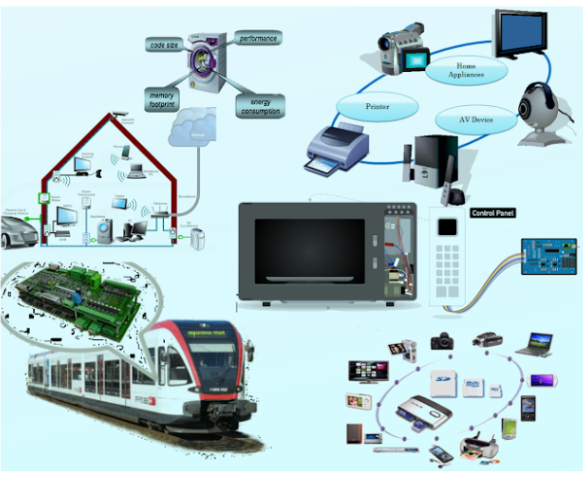 Consumer Electronics
Consumer Electronic things such as health bands, air conditioner, stabilizers, TV sets etc are embedded systems with different processing power and memory requirements.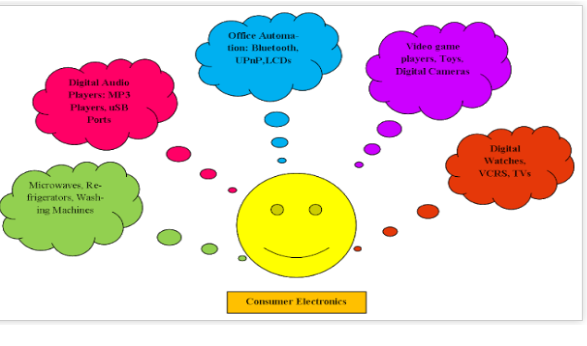 Control Systems and Industrial Automation
Industrial Automation is one of the  mainly used application of embedded systems. Basic block diagram of a  process control system is as follows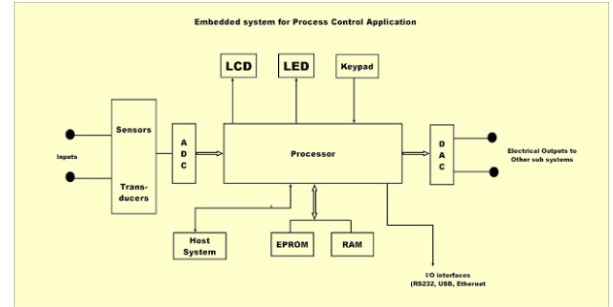 The embedded systems takes electrical signal as input. Sensors or transducers are used to convert physical entity into an electrical signal. These electrical signals are transformed in to digital signals. The processor in the system  process these signals using codes in memory chips. RAMs are used to store volatile data. Some times Embedded Systems controlling the other systems depends on the outputs from other Embedded Systems. For such systems, digital to analog converters are used.
Bio-medical Systems
Another application of  Embedded Systems  are Health care industry. Health care industry uses varieties of hard Embedded Systems which are highly time critical and spontaneous to sensitive responses. EEG, ECG units and other diagnosing units of hospitals uses these crital embedded systems.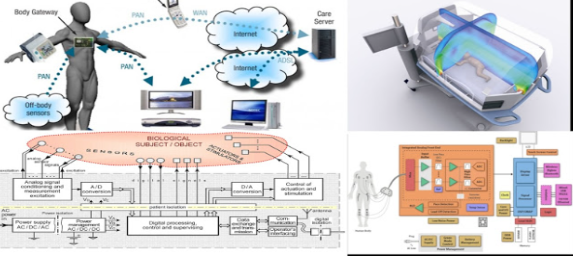 Telecommunication
Telephone switches, loop carriers, network terminations, terminal adapters  ATM switches, frame relays and paging base stations are the networking components that include Telecommunication infrastructure elements. Base station, mobile switching centers, and satellite communication equipment such as earth station controllers, onboard processing elements, telemetry and telecommuting systems, PBX control units and cable TV network elements are the  Mobile communications components.
Some examples of telecommunication are:
Global Positioning Systems(GPS) Receivers
Interactive Voice Response (IVR) systems
Video Codecs
Audio Codecs
Wireless Communications
Wireless communication: there have been tremendous progress in digital wireless networks

Mobile Phones
The mobile gadgets have android moderating systems embedded into them  and the application software runs above OS. These devices are also Java-enabled so, they can download applications from the network and run them locally.
Personal Digital Assistants (PDAs)
The newest development of Personal Digital Assistants(PDAs) are extremely powerful and provide much better functionality. Pocket PCs and Palm OS belongs to PDAs. These PDAs works on an OS such as Window CE, Palm OS, and Symbian OS, and they support the TCP/IP protocol as well as application layer software such as POP3, SMTP and HTTP.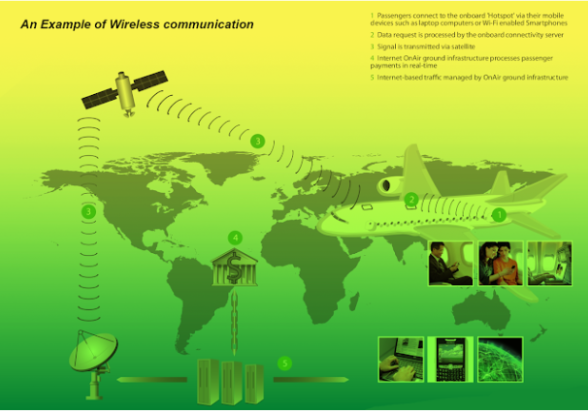 Aerospace
In modern world embedded systems are found everywhere from head to tail in the   aircrafts. Embedded Systems are used in Flight data recorders, internal/external video and audio  surveillance system, flight management systems, various sensor systems, engine control systems and many more.